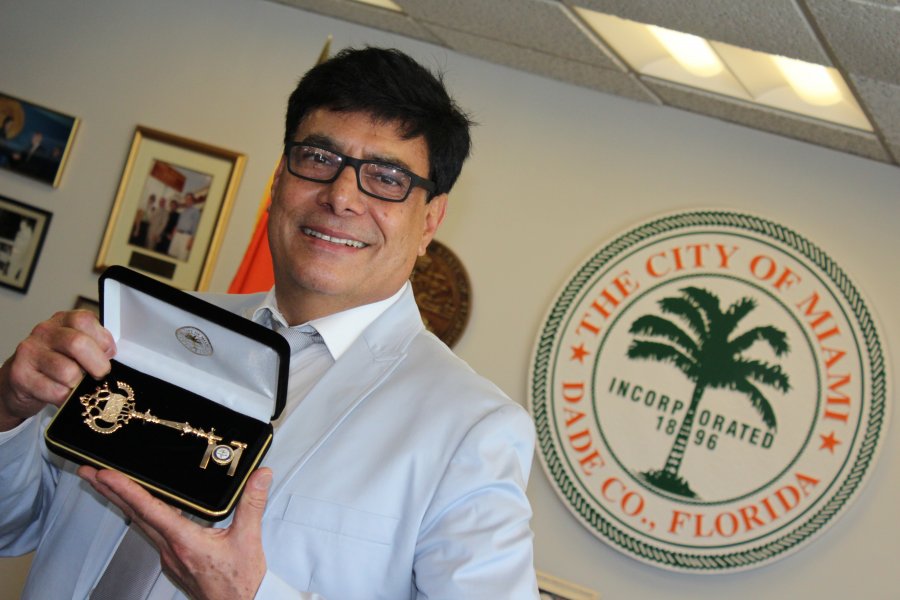 THE VOICE OF MIAMI'S RADIO FOR MORE THAN TWO DECADES
ADRIAN MESA RECEIVED THE DISTINCTION FROM MAYOR, TOMAS REGALADO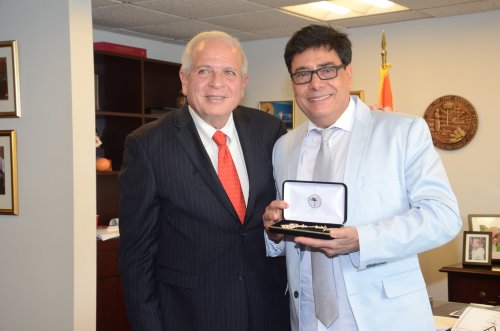 Miami, FL. (January 30, 2017)—Spanish Broadcasting System, Inc. (SBS) (OTCQX: SBSAA) radio personality Adrian Mesa of Zeta 92.3FM, Monday-Friday from 10am-3pm and Sundays at noon on his incomparable program "Mano a Mano" received the key to the City of Miami as a tribute to his two decades of service to the Hispanic community of South Florida through the radio airwaves this past Friday, January 27.
Miami Mayor Tomas Regalado led the ceremony in Miami's City Hall. During the ceremony, Adrian Mesa thanked the reception and said he was "very happy" to receive this honor because "it has brought many emotions."
"I came to this city with many dreams and today I thank God for the opportunity he has given me to be able to captivate the hearts of millions of people through the radio airwaves and I would like to thank this beautiful community that has supported me," said the famed broadcaster. "This key is dedicated to our fans of Zeta 92.3FM. I am very grateful to Miami, which has been my home for much of my life."
"The City of Miami values those talented personalities who, with vitality, integrity and professionalism contribute to the growth and well-being of our community," said Mayor of Miami Tomas Regalado. "We recognize the cultural heritage of Miami's diversity as a source of inspiration on Miami radio."
About Adrian Mesa:
Adrian arrived with his sister in 1980 as part of the Mariel exodus from Cuba. When he arrived in the United States he was working under different employers until he achieved his dream at the end of 1998: communicating with listeners through the radio.
He studied journalism at Miami-Dade College as well as communications at the Miami Lakes Educational Center under radio professionals such as Alexis Farias and Mike Capote. Beginning in "FM 92" owned by Mr. Pablo Raul Alarcon, Adrian received advisement from colleagues Betty Pino and Javier Romero.
In addition, Adrian was part of the radio team at "Ritmo 98.3" where he stood to help our community when Hurricane Andrew struck. Adrian served as main reporter along with Mr. Tomas Regalado, current Mayor of the City of Miami.
Adrian is one of the pillars of Spanish Broadcasting System, Inc. (SBS). He has served as the host of "Clasica 92" since September 27, 1997 but his work has not been limited to radio. Adrian has also participated in the TV show "Entre Fichas" on MegaTV.
He is currently an essential part of the advertising campaigns for products such as "Med Care" and "Med Plan." He also starred in the unforgettable radio program "Aqui esta Alvarez Guedes" from February 28, 1998 until 2012.
Mesa is always ready to enjoy a good dish of delicious homemade Cuban food with good friends. He's a meat and potatoes kind of guy who loves all kinds of music music regardless of genre and age. Among the things he does not like are lies and betrayal. His concept of friendship is sacred.
Adrian Mesa could be heard every day on Zeta 92.3FM Monday to Friday from 10-3pm and Sundays at noon on his incomparable program "Mano a Mano".
About Spanish Broadcasting System
Spanish Broadcasting System, Inc. is a leading Hispanic media company that owns and operates 17 radio stations located in the top U.S. Hispanic markets of New York, Los Angeles, Miami, Chicago, San Francisco and Puerto Rico, airing the Spanish Tropical, Regional Mexican, Spanish Adult Contemporary, Top 40 and Latin Rhythmic format genres. SBS also operates AIRE Radio Networks, a national radio platform which creates, distributes and markets leading Spanish-language radio programming to over 100 affiliated stations reaching 93% of the U.S. Hispanic audience. SBS also owns MegaTV, a television operation with over-the-air, cable and satellite distribution and affiliates throughout the U.S. and Puerto Rico. SBS also produces live concerts and events and owns multiple bilingual websites, including www.LaMusica.com, an online destination and mobile app providing content related to Latin music, entertainment, news and culture. For more information, visit us online at spanishbroadcasting.com.
MEDIA CONTACT FOR SBS:
Vladimir Gomez
Director of Communications