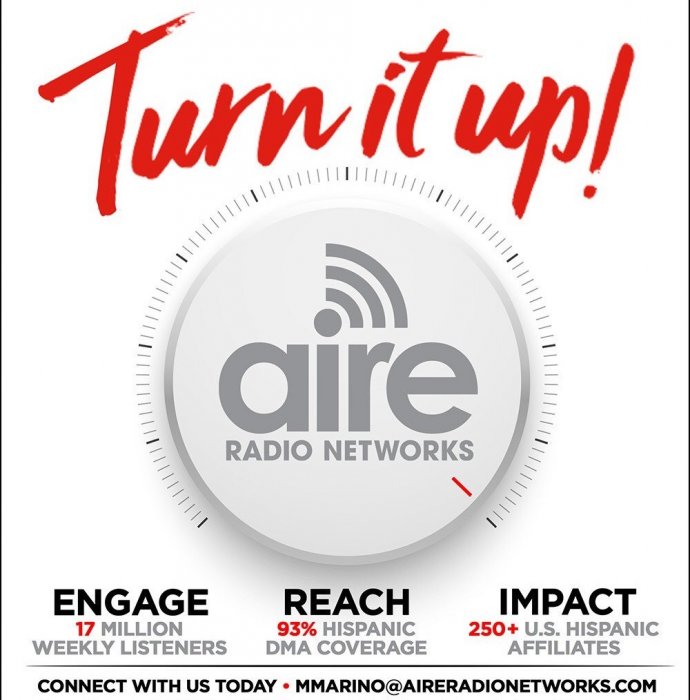 THE RELEASE OF NIELSEN'S AUDIO DMA FALL '16 BOOK REVEALS DOUBLE-DIGIT INCREASES ACROSS ALL DAYPARTS WITH KEY DEMOS
Miami, FL. (April 17, 2017)—AIRE Radio Networks, the largest minority certified Spanish Language radio network and the official radio network of Spanish Broadcasting System, Inc. (SBS) (OTCQX: SBSAA), announced today its consistent ratings growth with significant double-digit year-to-year increases across all day-parts with key demos, HA18-49 and HA25-54, based on the latest release of Nielsen's Audio DMA Fall 2016 book.
ADVANTAGE, AIRE Radio Networks' premiere network, dominates the Spanish-Language audio network landscape with a solid 2.0 midday rating among HA 18-49, outperforming all of its competitors.
"We could not be more pleased with the latest Nielsen Audio DMA Fall 2016 book results," said Elisa Torres, EVP AIRE Radio Networks. "In a short period of time, we have been able to build one of the fastest growing Spanish-Language radio networks in the market. The fact that we continue to gain momentum in the market and have been able to outperform our competitors in optimal day-parts, is a clear indication that our strategy of building audio platforms tailored to the behaviors and interest of U.S. Hispanic consumers is working."
Additionally, AIRE's syndicated radio program, Por El Placer de Vivir, hosted by Dr. Cesar Lozano, follows the same ratings growth trajectory with double-digit increases among HA18-49 and HA25-54. The program also produced triple digit increases within top Hispanic markets.
*Source: Nielsen Audio DMA, Fall 2015, Fall 2016; Advantage Network; Various by Daypart; HA18-49 & HA25-54
*Source: Nielsen Audio DMA, Spring 2016, Fall 2016; Advantage Network; Various by Daypart; HA18-49 & HA25-54
About Spanish Broadcasting System and AIRE Radio Networks
Spanish Broadcasting System, Inc. is a leading Hispanic media company that owns and operates 17 radio stations located in the top U.S. Hispanic markets of New York, Los Angeles, Miami, Chicago, San Francisco and Puerto Rico, airing the Spanish Tropical, Regional Mexican, Spanish Adult Contemporary, Top 40 and Latin Rhythmic format genres. SBS also operates AIRE Radio Networks, a national radio platform which creates, distributes and markets leading Spanish-language radio programming to over 250 affiliated stations reaching 93% of the U.S. Hispanic audience. SBS also owns MegaTV, a television operation with over-the-air, cable and satellite distribution and affiliates throughout the U.S. and Puerto Rico. SBS also produces live concerts and events and owns multiple bilingual websites and LaMusica, a mobile app providing content related to Latin music, entertainment, news and culture. For more information, visit us online at spanishbroadcasting.com.
MEDIA CONTACT FOR SBS:
Vladimir Gomez
Director of Communications & National Promotions
Brad Edwards
Brainerd Communicators, Inc.
For more information about AIRE Radio Networks, contact Elisa Torres at 786.470.1624 or etorres@aireradionetworks.com.