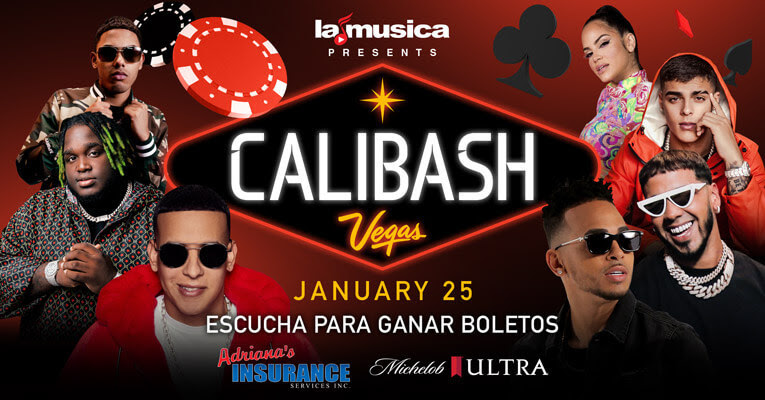 Los Angeles, CA. (January 21st, 2020)—LaMusica App, SpanishBroadcasting System, Inc. ("SBS") (OTCQX: SBSAA) and LA's #1 Party Station, KXOL Mega 96.3FM announced that tickets for Calibash 2020 in Las Vegas are currently on sale at www.axs.com. The New Year's most iconic music event captures the spirit of the LaMusica app, with performances by some of the year's biggest recording artists. CALIBASH 2020 in Las Vegas returns to the T-Mobile Arena on January 25th.
The full artist line-up was announced on Mega 96.3FM and across social media platforms. CALIBASH 2020 features performances by top international superstars like Daddy Yankee, Ozuna, Anuel AA, Natti Natasha, Sech, Lunay and Myke Towers plus many more. Make sure to tune in to Mega 96.3FM in Los Angeles via LaMusica App from anywhere in the world for more exciting updates.
"The 2020 CALIBASH is a one-of-a-kind celebration that will showcase the wide variety of Latin Urban music we play every day on Mega 96.3FM, the top Hispanic Latinx station in Los Angeles," said Alessandra Alarcón President of SBS Entertainment. "The concert has exceeded even our own expectations. We're thrilled to be returning to T-Mobile Arena in Las Vegas. The night promises to be a can't-miss experience."
CALIBASH is part of SBS, LaMusica App incredibly successful roster of major concert events, which includes the biggest concert event in radio history, which features A-listers artists across every music genre on one stage; generating Millions on social media impressions.
*Artists and/or events subject to change or cancellation without notice.
About LaMusica
LaMusica is a music-centric online platform catering to a wide variety of Hispanic users through the live audio and video streaming of the nation's top-rated radio stations owned by Spanish Broadcasting System (SBS), including WSKQ-FM in New York City, the #1 Hispanic station in America, as well as other leading SBS formats from around the country. Offering a daily variety of exclusive digital content including current events video vignettes, celebrity interviews, podcasts, expertly curated playlists and world premiere music videos, LaMusica is the preferred Hispanic streaming platform for today's U.S. Latinos. LaMusica is available via the mobile app, the LaMusica.com website, iOS and Android smartphones and tablets, Apple TV, Roku, Android TV, Firestick/AmazonTV, Samsung SmartTV, Apple CarPlay, as well as Chromecast and Alexa-enabled devices.
About Spanish Broadcasting System, Inc.
Spanish Broadcasting System, Inc. (SBS) owns and operates radio stations located in the top U.S. Hispanic markets of New York, Los Angeles, Miami, Chicago, San Francisco and Puerto Rico, airing the Tropical, Regional Mexican, Spanish Adult Contemporary, Top 40 and Urbano format genres, including the global leader in Hispanic radio, WSKQ-FM in New York City. SBS also operates AIRE Radio Networks, a national radio platform of over 275 affiliated stations reaching 95% of the U.S. Hispanic audience. SBS also owns MegaTV, a network television operation with over-the-air, cable and satellite distribution and affiliates throughout the U.S. and Puerto Rico, produces a nationwide roster of live concerts and events, and owns a stable of digital properties, including La Musica, a mobile app providing Latino-themed audio and video streaming content and HitzMaker, a new-talent destination for aspiring artists. For more information, visit us online at www.spanishbroadcasting.com.
About T-Mobile Arena
T-Mobile Arena, the 20,000-seat venue located on the Las Vegas Strip between New York-New York and Park MGM, opened April 6, 2016. The arena hosts more than 100 events annually including major headline entertainment, awards shows, UFC, boxing, basketball and other sporting events, family shows and special events. T-Mobile Arena also is the home of the Vegas Golden Knights, a National Hockey League expansion team and the city's first professional sports team. The city's newest landmark, recently named the No. 1 venue on Billboard Magazine's 2018 Arena Power List as well as the "Best New Major Concert Venue" by Pollstar Magazine, features 50 luxury suites, more than two dozen private loge boxes, complete broadcast facilities, and other specially designed exclusive hospitality offerings and fan amenities destined to create a guest experience second to none. Toshiba Plaza, an adjacent two-acre outdoor entertainment space, features performance stages, a variety of video screens and other interactive content and display areas. Industry-leading architect Populous designed T-Mobile Arena to meet the U.S. Green Building Council's standards for LEED® Gold Certification. T-Mobile Arena is a privately funded joint venture between AEG and MGM Resorts International (NYSE: MGM). For more information, visit the T-Mobile Arena website at www.t-mobilearena.com.
Media Contact SBS:
Vladimir Gomez
VP, Corporate Communications
(786) 394-9000 Ext. 1144
Media Contact T-Mobile Arena:
Katharine Sherrer
MGM Resorts International