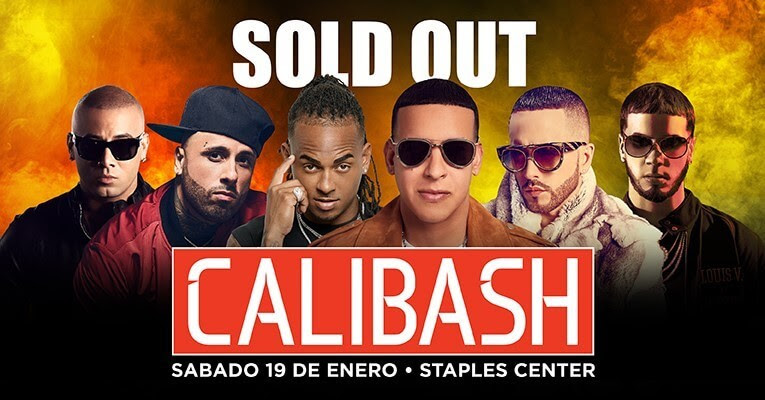 MEGA 96.3FM ANNUAL "CALIBASH RISING STAR" TALENT SEARCH RETURNS FOR THE PRE-FEST
TICKETS FOR CALIBASH 2019 ON SALE WWW.AXS.COM
Los Angeles, CA. (November 13, 2018)—LaMusica App, SpanishBroadcasting System, Inc. ("SBS") (OTCQB: SBSAA) and LA's #1 Party Station, KXOL Mega 96.3FM announced that tickets for the 12th annual Calibash concert are officially sold out. Los Angeles' most iconic music event captures the spirit of the LaMusica app, with performances by some of the year's biggest recording artists. CALIBASH 2019 returns to the Staples Center on January 19th, 2019.
The full artist line-up was announced on Mega 96.3FM and across social media platforms. CALIBASH 2019 features performances by Daddy Yankee, Ozuna, Wisin, Yandel, Nicky Jam and Anuel AA. Make sure to tune in to Mega 96.3FM for more exciting updates.
In addition to live performances, the daytime CALIBASH Pre-Fest will also feature fan zones including interactive experiences provided by Mega 96.3FM's brand partners. Fans have the opportunity to win tickets by attending our pre-fest or by listening to Mega 96.3FM.
The "Mega's 96.3FM, CALIBASH Rising Star" talent search is returning for the second year in a row and will provide emerging artists the chance to perform on the same venue as music's biggest superstars at the 2019 CALIBASH. Starting in early November, Mega's 96.3FM listeners and LaMusica App's users will once again have the opportunity to cast their votes for their favorite up-and-coming artists, and by voting, fans will be entered for a chance to win a trip to Los Angeles for the 2019 CALIBASH.
CALIBASH 2019 will broadcast live on SBS's, Los Angeles, station Mega 96.3FM, and will also be featured as an exclusive special on LaMusica App and MegaTV Network at a later date. CALIBASH 2019 is produced by Alessandra Alarcón, Vice-President of SBS West Coast.
"The 2019 CALIBASH is a one-of-a-kind celebration that showcases the wide variety of Latin Urban music we play every day on Mega 96.3FM, our top Hispanic Latinx station in Los Angeles," said Alessandra Alarcón SBS West Coast. "In twelve years, the concert has exceeded even our own expectations. We're thrilled to be returning to the Staples Center for the 2019 CALIBASH which is already officially sold out. It promises to be a can't-miss night."
CALIBASH is part of SBS, LaMusica App incredibly successful roster of major concert events, which includes the biggest concert event in radio history, which features A-listers artists across every music genre on one stage; generating Millions on social media impressions.
*Artists and/or events subject to change or cancellation without notice.
About Spanish Broadcasting System, Inc.:
Spanish Broadcasting System, Inc. (SBS) owns and operates radio stations located in the top U.S. Hispanic markets of New York, Los Angeles, Miami, Chicago, San Francisco and Puerto Rico, airing the Tropical, Regional Mexican, Spanish Adult Contemporary, Top 40 and Urbano format genres. SBS also operates AIRE Radio Networks, a national radio platform of over 250 affiliated stations reaching 94% of the U.S. Hispanic audience. SBS also owns MegaTV, a network television operation with over-the-air, cable and satellite distribution and affiliates throughout the U.S. and Puerto Rico, produces a nationwide roster of live concerts and events, and owns a stable of digital properties, including LaMusica, a mobile app providing Latino-focused audio and video streaming content and HitzMaker, a new-talent destination for aspiring artists. For more information, visit us online at www.spanishbroadcasting.com.
Media Contact SBS:
Vladimir Gomez
VP, Corporate Communications
(786) 470-1644