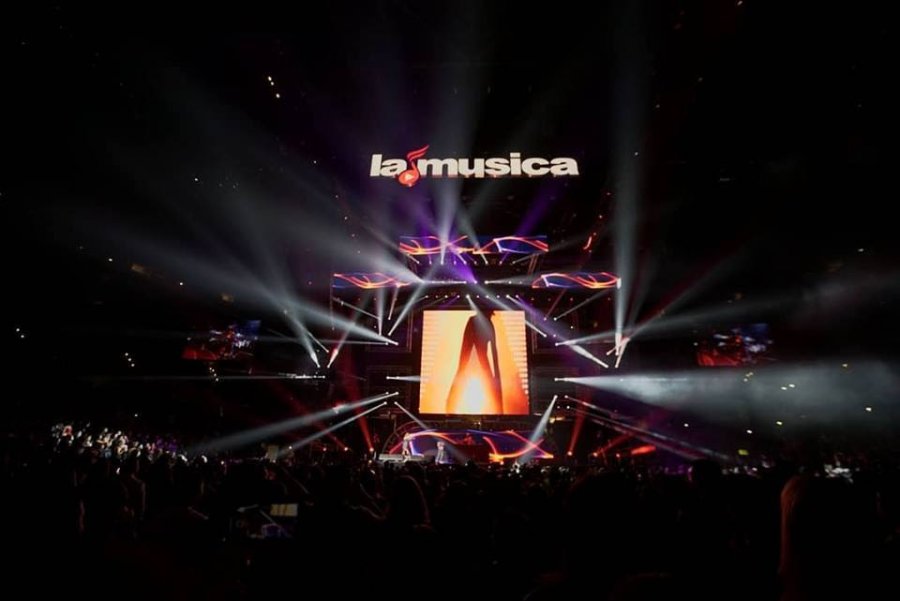 AN ICONIC LINEUP & SUPERSTAR COLLABORATIONS AT THE STAPLES CENTER
Los Angeles, CA. (January 23rd, 2019)—After two days completely sold out and dozens of legendary performances, the annual Calibash Los Angeles presented by Mega 96.3FM and LaMusica App, concluded on Sunday evening at Staples Center in Los Angeles with unforgettable performances by Daddy Yankee, Ozuna, Nicky Jam, Wisin, Yandel, Anuel AA, Natti Natasha, Becky G, J Alvarez and Zion & Lennox.
The iconic weekend-long concert event included the biggest names in music across the urban genre, on the main stage at the Staples Center in Los Angeles on the evenings of January 19th and January 20th, and at the Pre Fest Stage on Saturday and Sunday afternoon at the Staples Center grounds, which featured performances by Feid, Chesca, Vice Menta, Bianca, Alcover, Jean Paul & Chris, Victoria, Samantha, Jaiman, Suave, Fehr Rivas, Omar Escobar, Jenn Morel and Hitzmakers App contest winners, Robinson aka RR and Jd Mafia.
Throughout a long on-air and online promotion, hundreds of lucky winners from Los Angeles and across the country were awarded exclusive tickets to the two-day concert event. For fans not in attendance, Mega 96.3FM and LaMusica App hosted a live backstage broadcast featuring exclusive artist interviews and performances that aired live from the Staples Center.
Calibash Los Angeles was a dominant social media topic throughout the weekend. The official hashtag #CalibashLA2019 was a trending topic on Twitter in the Los Angeles Market and worldwide social trend in various countries. The Daytime Stage official hashtag #Calibash2019 Pre-Fest also trended in the U.S. #CalibashLA2019 continues to trend with tweets, instagram posts and retweets from fans as well as artists.
Highlights of the 2019 Calibash show:
| | |
| --- | --- |
| ▪ | Daddy Yankee took to the Calibash Los Angeles stage to perform a few of his latest hits. The iconic Reggaeton star gave fans a show of a lifetime as he delivered one of his most epic performances ever. He was joined on stage by Natti Natasha and Becky G. |
| | |
| --- | --- |
| ▪ | The female sensation Becky G gracefully and effortlessly performed some of her biggest chart-topping hits, "Mayores," "Cuando te Bese," "Booty," "Mala Mia" remix, and "Sin Pijama" on night two of the 2019 Calibash Los Angeles. Becky also joined Anuel AA on stage to perform "Bubalu." Besides her epic performances, the night proved to be even more special for the singer-actress. Becky's management surprised her backstage with two plaques. Her song "Cuando Te Bese" was certified 2x platinum and "Sin Pijama" was certified 13x diamond. And, her parents were there for the sweet moment. |
| | |
| --- | --- |
| ▪ | Ozuna took the stage by storm, delivering a rousing set that had the entire venue on its feet both nights. Even Lauren Jauregui and her boyfriend rapper Ty Dolla $ign were caught backstage rocking out to his set. |
| | |
| --- | --- |
| ▪ | Natti Natasha performed hits like, "Quien Sabe," "Pa' Mala YO," "Criminal" with Ozuna, and "Sin Pijama" with Becky G. She ended the night by joining Daddy Yankee with Becky G to turn up the crowd with "Dura", Sunday night. |
| | |
| --- | --- |
| ▪ | Nicky Jam had an electrifying set both nights gathering screams from event goers. |
| | |
| --- | --- |
| ▪ | J Alvarez brought Puerto Rico to Los Angeles during his upbeat set at the 2019 Calibash. |
Calibash Los Angeles, which debuted twelve years ago, has quickly become one of the most talked about music events of the year. Calibash Los Angeles is a live representation of the diverse music experience that fans find and enjoy through the LaMusica app, free all-in-one digital music, podcasting, video content and live streaming radio service. Calibash is part of SBS incredibly successful roster of major concert events, which includes the biggest concert event in radio history, which features A-listers artists.
Proud partners of this year's event include: Absolut, Budlight.
About Spanish Broadcasting System, Inc.
Spanish Broadcasting System, Inc. (SBS) owns and operates radio stations located in the top U.S. Hispanic markets of New York, Los Angeles, Miami, Chicago, San Francisco and Puerto Rico, airing the Tropical, Regional Mexican, Spanish Adult Contemporary, Top 40 and Urbano format genres. SBS also operates AIRE Radio Networks, a national radio platform of over 250 affiliated stations reaching 94% of the U.S. Hispanic audience. SBS also owns MegaTV, a network television operation with over-the-air, cable and satellite distribution and affiliates throughout the U.S. and Puerto Rico, produces a nationwide roster of live concerts and events, and owns a stable of digital properties, including LaMusica, a mobile app providing Latino-focused audio and video streaming content and HitzMaker, a new-talent destination for aspiring artists. For more information, visit us online at www.spanishbroadcasting.com.
MEDIA CONTACT SBS:
Vladimir Gomez
VP, Corporate Communications