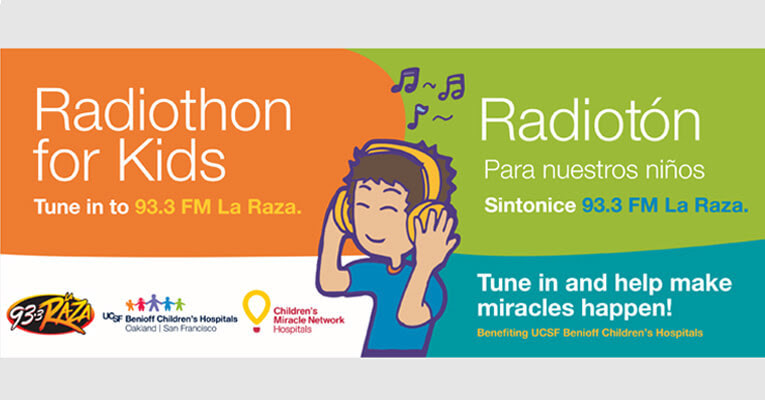 LET'S MAKE A MIRACLE HAPPEN FOR OUR CHILDREN
MARK YOUR CALENDARS!
San Jose, CA. (December 6, 2019)— Spanish Broadcasting System, inc. (SBS) (OTCQX: SBSAA) along with its leading radio station in the Bay area, 93.3FM La Raza (KRZZ) in San Jose/ San Francisco announced today that they will be hosting their eleventh annual Radiothon for Kids with the purpose of raising funds for the benefit of UCSF Benioff Children's Hospitals.
The live event will begin on Friday, December 6th from 6 a.m. to 7 p.m. (PST) and will continue on Saturday, December 7th from 6 a.m. to 7 p.m. (PST). Listeners of 93.3FM La Raza will tune in to patients and their families sharing their stories of healing, dreams and miracles all thanks to UCSF Benioff Children's Hospitals.
"Radiothon for Kids" will be hosted by the radio personalities from 93.3FM La Raza (KRZZ), such as El Terrible "Al Aire con Terrible" (6am-10am), "Chikilin" Adal Loreto (10am-3pm), Gilberto Ríos "El Compa Gil" (3pm-7pm), El Barzón Ernesto de Santiago (7pm-12am), El Semental (Saturdays 10am-3pm- Sundays 12pm-6pm), among others who will broadcast live from the UCSF Benioff Children's Hospitals, which is a part of the Children's Miracle Network Hospital, to serve the area of San Francisco, San José. One hundred percent of the donations collected during this two day Radiothon will be donated to the fund of health services of the UCSF Benioff Children's Hospitals.
"Nothing is more important to our future than helping those who devote their lives to the health and well-being of children. It is an honor for 93.3FM La Raza to organize this event for the eleventh consecutive year and we are proud of our contribution to this community. The power of radio is alive and well in San Francisco, San Jose through KRZZ," said Christian de la Cruz, General Sales Manager of 93.3FM La Raza.
"The UCSF Benioff Children's Hospitals truly appreciates the significant efforts of 93.3 FM La Raza and its followers along with the commitment they demonstrate by helping the sick children in our community. "Radiothon for Kids" will provide the opportunity for listeners to hear anecdotes directly from patients and their families about the care and recovery obtained through the help provided by UCSF Benioff Children's Hospitals, regardless of their ability to pay for receiving aid," said Elena Jovel, Director of Programming at 93.3FM La Raza.
The UCSF Benioff Children's Hospitals receives more than 250,000 patients each year. Approximately twenty-seven percent of the patients are mostly Hispanic; so Radiothon for Kids will create awareness of this fact and the services that the hospital offers.
Tune in to 93.3FM La Raza on Friday, December 6th until Saturday, December 7th and support this noble cause. Listeners are welcome to donate at 1800-680-3622 or by visiting the webpage give.ucsfbenioffchildrens.org
About LaMusica
LaMusica is a music-centric online platform catering to a wide variety of Hispanic users through the live audio and video streaming of the nation's top-rated radio stations owned by Spanish Broadcasting System (SBS), including WSKQ-FM in New York City, the #1 Hispanic station in America, as well as other leading SBS formats from around the country. Offering a daily variety of exclusive digital content including current events video vignettes, celebrity interviews, podcasts, expertly curated playlists and world premiere music videos, LaMusica is the preferred Hispanic streaming platform for today's U.S. Latinos. LaMusica is available via the mobile app, the LaMusica.com website, iOS and Android smartphones and tablets, Apple TV, Roku, Android TV, Firestick/AmazonTV, Samsung SmartTV, Apple CarPlay, as well as Chromecast and Alexa-enabled devices.
About Spanish Broadcasting System, Inc.
Spanish Broadcasting System, Inc. (SBS) owns and operates radio stations located in the top U.S. Hispanic markets of New York, Los Angeles, Miami, Chicago, San Francisco and Puerto Rico, airing the Tropical, Regional Mexican, Spanish Adult Contemporary, Top 40 and Urbano format genres. SBS also operates AIRE Radio Networks, a national radio platform of over 250 affiliated stations reaching 94% of the U.S. Hispanic audience. SBS also owns MegaTV, a network television operation with over-the-air, cable and satellite distribution and affiliates throughout the U.S. and Puerto Rico, produces and promotes a nationwide series of live concerts and events, and owns a stable of digital properties, including La Musica, a mobile app providing Latino-focused audio and video streaming content and HitzMaker, a new-talent destination for aspiring artists and music aficionados. For more information, visit us online at www.spanishbroadcasting.com.
MEDIA CONTACT SBS:
Vladimir Gomez
VP, Corporate Communications
(786) 394-9000 Ext. 1144