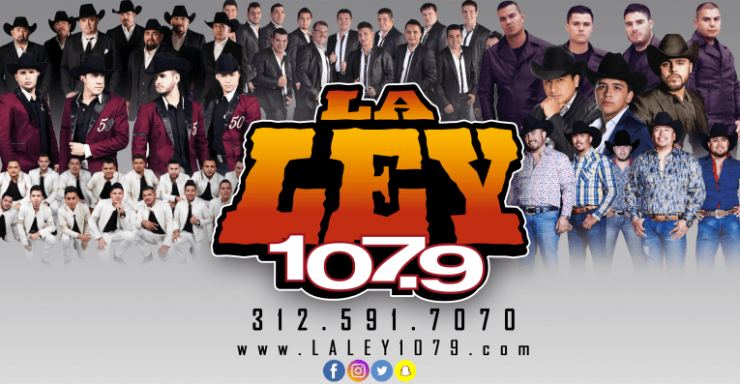 NEW SINGLE-FREQUENCY NETWORK (SFN) SUCCESSFULLY TARGETS AND FILLS IN SIGNAL THROUGHOUT THE PILSEN NEIGHBORHOOD, WHERE APPROXIMATELY 70% OF PPMS FOR HISPANIC RADIO AUDIENCES EXIST
Chicago, IL. (August 2, 2018)—Adoption of the patented MaxxCasting technology created and owned by GeoBroadcast Solutions (GBS) continues to accelerate, with Spanish Broadcasting System, Inc., (SBS) (OTCQB: SBSAA) station WLEY (FM) La Ley 107.9FM the most recent MaxxCasting licensee to go live with the system and immediately reap its benefits. The WLEY (FM) La Ley 107.9FM, implementation of MaxxCasting has enabled the Aurora, Illinois-licensed station to increase its coverage-to-contour ratio by overcoming signal strength issues that impeded its ability to fully reach its adult Hispanic target audience in key Chicago neighborhoods with its regional Mexican format.
While WLEY's La Ley 107.9FM broadcast signal spans the majority of its legally-designated broadcast area, or service contour, the density of buildings in its urban environments creates multipath interference in population centers such as Pilsen that are crucial to the station. Such interference degrades the audio signal for listeners while limiting WLEY's ability to reach Nielsen Portable People Meters (PPM), important tools in measuring audience exposure and listener metrics that radio stations use to attract new advertisers and set their rates.
"While WLEY's contour covers the market pretty well, the areas that they had signal difficulties within happen to be the some of the most important demographic areas for their business," said Bill Hieatt, CTO, GeoBroadcast Solutions. "I would estimate that 70% of the PPMs for Hispanic radio in the region are located in the Pilsen neighborhood, which is also a good indicator of the WLEY audience's geographic concentration. With MaxxCasting, WLEY's signal can be decoded into these meters considerably more proficiently than that of the station's direct competitors, increasing WLEY's revenue potential, while providing an improved audio experience to keep the station's listeners engaged in their cars, homes and commercial buildings."
The WLEY MaxxCasting deployment features three synchronized nodes in a single-frequency network (SFN) to overcome the multipath issues caused by urbanization. The low-height, low-power nodes are strategically targeted to fill in specific key geographic listening areas, with the MaxxCasting SFN architecture providing seamless transitions without audible disruption as drivers listening to the station move between transmitters.
Erik Peterson, Vice President of Engineering for Spanish Broadcasting System, became familiar with the contour-to-coverage benefits of MaxxCasting when he joined a listening test for WXRV in Boston.
"As we drove around the neighborhoods of Boston listening to the smooth transition between MaxxCasting nodes, we quickly realized that this technology could solve the coverage problems we experienced in the Pilsen neighborhood without introducing new interference," said Peterson. "Upon deployment, it was clear that our expectations have been exceeded. Our improved coverage will help us better serve the large Spanish-language communities in Chicago, while making WLEY a far more attractive advertising outlet for local businesses. MaxxCasting is giving broadcasters who have turned away from FM radio advertising a viable reason to return."
Leveraging the MaxxCasting platform's flexible scalability, the WLEY MaxxCasting installation was designed to enable at least four different broadcast stations to share the same site in the future, thus bringing down the costs for each. Rather than requiring separate sites, from an infrastructure perspective, new stations essentially need only add their transmitter, a combiner, and their audio feed. One additional station has already committed to becoming a MaxxCasting licensee and joining the WLEY SFN infrastructure, with deployment anticipated in the coming weeks.
Each node in the WLEY (FM) La Ley 107.9FM, MaxxCasting system features a GatesAir Flexiva FAX transmitter operating at 99 Watts and uses GatesAir Intraplex IP networking solutions to simulcast and synchronize live program content, enabling the aforementioned seamless node-to-node transitions.
With the WLEY (FM) La Ley 107.9FM deployment, Spanish Broadcasting System joins other top-tier media organizations using the MaxxCasting system to maximize their radio broadcast coverage and revenue opportunities in markets including Boston, Chicago, Milwaukee, Seattle and West Virginia.
In addition to vastly improving coverage-to-contour ratio and market penetration, the patented MaxxCasting solution eliminates the self-interference and signal degradation problems that commonly plague legacy booster systems. GBS uses highly accurate modeling software, drive testing and proprietary formulas to measure a variety of environmental factors that affect coverage. Calculations related to height above average terrain, distance and power ratio between nodes, and antenna patterns versus interference areas, are among those used to predict coverage improvements and outperform traditional approaches.
---
About Spanish Broadcasting System, Inc.
Spanish Broadcasting System, Inc. owns and operates 17 radio stations located in the top U.S. Hispanic markets of New York, Los Angeles, Miami, Chicago, San Francisco and Puerto Rico, airing the Spanish Tropical, Regional Mexican, Spanish Adult Contemporary, Top 40 and Latin Rhythmic format genres. SBS also operates AIRE Radio Networks, a national radio platform which creates, distributes and markets leading Spanish-language radio programming to over 250 affiliated stations reaching 94% of the U.S. Hispanic audience. SBS also owns MegaTV, a television operation with over-the-air, cable and satellite distribution and affiliates throughout the U.S. and Puerto Rico. SBS also produces live concerts and events and owns multiple bilingual websites, including LA Musica, a mobile app providing content related to Latin music, entertainment, news and culture. For more information, visit us online at www.spanishbroadcasting.com.
About GeoBroadcast Solutions
Founded in 2011, GeoBroadcast Solutions, LLC (GBS) offers innovative technologies and solutions that help radio broadcasters maximize their signals and grow their revenues. The patented, successfully-deployed MaxxCasting™ system expands the coverage area of an FM signal and allows geographic targeting and fencing of text advertising and messaging. ZoneCasting™, currently in the FCC approval process, allows the additional Geo-Targeting and Geo-Fencing of audio and graphical advertisements. These emerging technologies give broadcasters the tools to compete in the face of evolving internet and cellular message distribution. GBS partners with GatesAir for transmission and IP distribution equipment.
---
Media Contact SBS:
Vladimir Gomez
vgomez@sbscorporate.com
(786) 470-1644
Media Contact GeoBroadcast Solutions:
Brian Galante
President
Dimension PR
207-494-8428
brian@dimensionpronline.com