LOS ANGELES, Sept. 13, 2016 /PRNewswire/ — Spanish Broadcasting System, Inc. ("SBS"/ NASDAQ:SBSA) today announced that Chris Carrillo has been named Vice President and General Manager, of SBS Los Angeles supervising all operations at KLAX-FM (97.9FM LA RAZA), KXOL-FM (Mega 96.3FM), LaMusica. The appointment is effective immediately.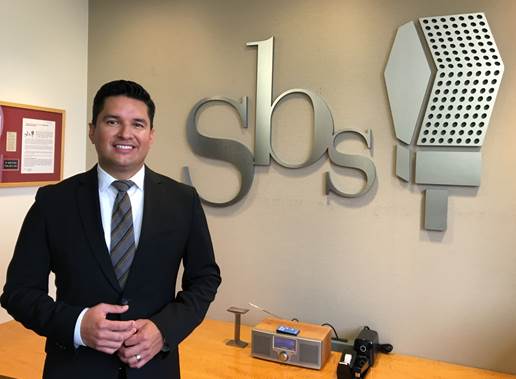 Mr. Carrillo had previously held various managerial positions at SBS for ten years including General Sales Manager, Local Sales Manager and Senior Account Executive. Mr. Carrillo had served as Senior Account Executive at iHeart Media formerly Clear Channel Communications in Los Angeles.
"Chris's radio experience and acumen are a matter of indisputable record and we're confident of his leadership abilities in taking our stations to the highest level of operational excellence in the Los Angeles market. He knows radio, he knows the advertisers, he knows the Company and its people and he's intimately familiar with our West Coast stations. No one is more qualified to take over the reins of SBS Los Angeles," stated, Albert Rodriguez COO of SBS.
"Chris has consistently served as a top performer in every role that he has served at SBS during his 10 plus years. His most recent assignment as General Sales Manager has proven Chris to be a tremendous leader. I am confident that Chris, now as VP/ General Manager will take our Los Angeles operations to new heights, moving forward," stated, Eric Garcia, SBS Radio Revenue Chief Officer and General Manager of SBS New York.
Chris's vision for the radio industry has been honed and cultivated over decades of hands-on radio broadcasting experience plus a vast knowledge of effective sales and management philosophies.
"I am pleased and honored to be named to this position, which is a clear endorsement of the soundness of our strategy, the value of our assets, and the depth of the incredible team we are building here at SBS," said Chris Carrillo. "I appreciate the energy and vision that Mr. Raul Alarcon has brought to the Company and look forward to pursuing the vision we share as we continue to push the boundaries of the definition of entertainment, giving our audience what they want now and in the future."
Mr. Chris Carrillo will immediately assume his duties and responsibilities. He will be based at the Company's Los Angeles headquarters.
About Spanish Broadcasting System, Inc.
Spanish Broadcasting System, Inc. owns and operates 17 radio stations located in the top U.S. Hispanic markets of New York, Los Angeles, Miami, Chicago, San Francisco and Puerto Rico, airing the Spanish Tropical, Regional Mexican, Spanish Adult Contemporary, Top 40 and Latin Rhythmic format genres. SBS also operates AIRE Radio Networks, a national radio platform which creates, distributes and markets leading Spanish-language radio programming to over 100 affiliated stations reaching 90% of the U.S. Hispanic audience. SBS also owns MegaTV, a television operation with over-the-air, cable and satellite distribution and affiliates throughout the U.S. and Puerto Rico. SBS also produces live concerts and events and owns multiple bilingual websites, including www.LaMusica.com, an online destination and mobile app providing content related to Latin music, entertainment, news and culture. For more information, visit us online at spanishbroadcasting.com.