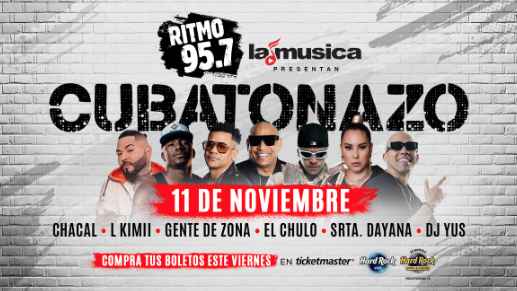 Miami, FL. (September 1, 2023)—The application LaMusica of Spanish Broadcasting System, Inc. (SBS) (Nasdaq: SBSA) alongside Miami radio station, Ritmo 95.7FM, has announced the artists that will be sharing the stage at "CUBATONAZO", on Saturday, November 11, 2023 at Hard Rock Live of Seminole Hard Rock Hotel & Casino.
Last year, el "CUBATONAZO" was completely sold-out, being that this massive event unites the most emblematic Cuban Urban artists of today. This year will not be the exception, with superstars such as Gente De Zona, Chacal, LKimii, El Chulo, & Srta. Dayana, among others, joining for a night full of good music, surprise guests, and special mixes courtesy of DJ Yus.
The Urban movement is leading the music market on an International level, and SBS always offers the most exciting and innovative events for the Hispanic community, creating entertainment with the most sought after talent on one stage, such as the ones that will form part of this unforgettable event, "CUBATONAZO", 2023.
"We are always creating new opportunities for our listeners, so that they can enjoy their favorite artists, live on stage. This yearly event is always a huge success and the audience of Ritmo 95.7FM, Cubaton y Mas, in Miami are loyal listeners. This concert commemorates the 7th anniversary of this radio station.", said, Alessandra Alarcón, President of SBS Entertainment.
Tickets will be on sale, Friday, September 8, 2023 at 7:00am through www.Ticketmaster.com.
We would like to highlight that Ritmo 95.7FM has been on air for 7 years and this is the 6th time that this event celebrates the anniversary of the radio station. You can join the conversation by using the hashtag #Ritmo95 #Cubatonazo2023, and on social media: instagram @957miami, Facebook.com/957Miami, Twitter @957miami.
About Spanish Broadcasting System, Inc.
Spanish Broadcasting System, Inc. (SBS) owns and operates radio stations located in the top U.S. Hispanic markets of Los Angeles, New York, Puerto Rico, Chicago, Miami, San Francisco, Orlando, and Tampa, airing the Tropical, Regional Mexican, Spanish Adult Contemporary, Top 40 and Urbano format genres. SBS also operates AIRE Radio Networks, a national radio platform of over 290 affiliated stations reaching 95% of the U.S. Hispanic audience. SBS also owns Mega TV, a network television operation with over-the-air, cable and satellite distribution and affiliates throughout the U.S. and Puerto Rico, produces a nationwide roster of live concerts and events, and owns a stable of digital properties, including LaMusica, a mobile app providing Latino-focused audio and video streaming content and HitzMaker, a performance showcase for trendsetting new artists and music aficionados. For more information, visit us online at www.spanishbroadcasting.com.