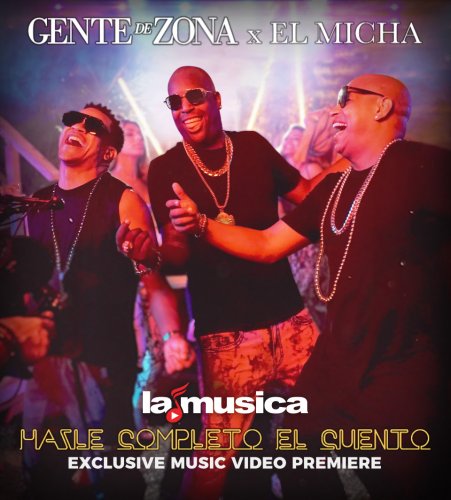 "HAZLE COMPLETO EL CUENTO"- THE SINGLE WILL BE AVAILABLE ON ALL DIGITAL PLATFORMS NOVEMBER 16TH. TUNE IN TO RITMO 95.7FM FOR AN EXCLUSIVE RADIO PREMIERE IN SOUTH FLORIDA
Miami, FL. (November 16th, 2018)— LaMusica App from SpanishBroadcasting System, Inc. (SBS) (OTCQB: SBSAA), exclusively premieres the much anticipated music video for the single "Hazle Completo el Cuento." The legendary Cuban duo, Gente de Zona, is joined by the ever-growing urban sensation, El Micha, to bring their faithful fans a theme song that will make it hard for everyone to sit still. The single "Hazle Completo el Cuento" will be available on all digital platforms Friday, November 16th, and exclusive content will showcase on Ritmo 95.7FM from the expected premiere.
"Tell the whole story, tell him what happened, tell him you're lying… Tell him it's not him but me you answer the phone to…"
says the chorus of the new single. This promising hit is not only lyrically enticing but rhythmically catchy; fusing a multitude of sounds. The song, which was released under the Sony Music / Magnus Media label, tells the all-too-familiar story of a desired woman who has to choose between two men. Her lover begs her to "tell the whole story" by putting her deceptive ways to rest and finally choosing to be happy with him.
The music video was filmed in Wynwood highlighting the influential Latin atmosphere that consumes the typical Miami lifestyle: everything is beautiful, forget your troubles and let's party. We see Gente de Zona and El Micha singing to their respective girls while flirting and dancing in a way that exudes sensuality. It is a video that is characterized by its stunningly colorful cinematography and good vibes.
"'Hazle Completo el Cuento' is the epitome of a good time," said Bianca Alarcón, Vice President of Content Development, LaMusica App/SBS. "We were thrilled to find out we would be working with Magnus Media and Sony on this project. The video premiere is a great demonstration of the ability to connect us all to our cultural roots while, at the same time, entertaining our audience in new and exciting ways."
The single "Hazle Completo el Cuento" will be available on November 16th, 2018 on all digital platforms.
Do not miss the exclusive premiere of the music video "Hazle Completo el Cuento" this Friday, November 16th, 2018 on LaMusica App, which is available for free via IOS and Android app stores. More information about the LaMusica App can be found at http://www.lamusica.com.
About Spanish Broadcasting System, Inc.
Spanish Broadcasting System, Inc. (SBS) owns and operates radio stations located in the top U.S. Hispanic markets of New York, Los Angeles, Miami, Chicago, San Francisco and Puerto Rico, airing the Tropical, Regional Mexican, Spanish Adult Contemporary, Top 40 and Urbano format genres. SBS also operates AIRE Radio Networks, a national radio platform of over 250 affiliated stations reaching 93% of the U.S. Hispanic audience. SBS also owns MegaTV, a television operation with over-the-air, cable and satellite distribution and affiliates throughout the U.S. and Puerto Rico, produces a nationwide roster of live concerts and events, and owns a stable of digital properties, including LaMusica App, a mobile app providing Latino-focused audio and video streaming content and HitzMaker, a new-talent destination for aspiring artists. For more information, visit us online at www.spanishbroadcasting.com.
MEDIA CONTACT SBS:
Vladimir Gomez
(786) 470-1644