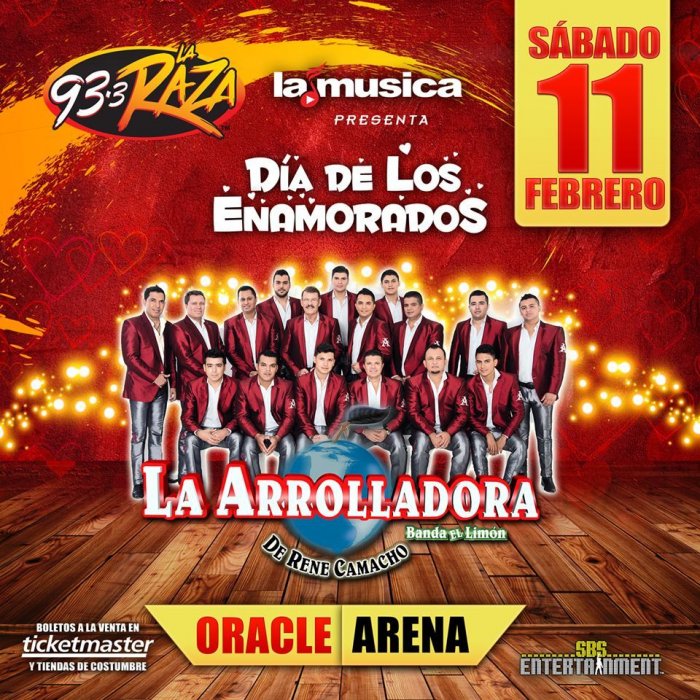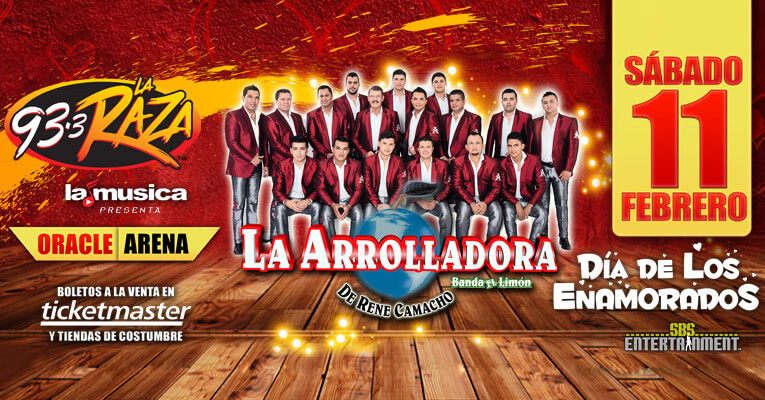 LAMUSICA AND 93.3FM LA RAZA PRESENT SUPER STARS OF MEXICAN REGIONAL MUSIC, LA ARROLLADORA BANDA EL LIMON DE RENE CAMACHO, ON SATURDAY, FEBRUARY 11, 2017 AT THE ORACLE ARENA IN OAKLAND, CALIFORNIA
San Francisco, CA. (January 17, 2017)— LaMusica, the free mobile application APP that allows users to stream music, listen to live radio programs and customize their experience with the option to create playlists owned by (SBS) Spanish Broadcasting System, Inc. (Nasdaq: SBSA), and 93.3FM La Raza, the favorite radio station of listeners in the San Francisco Bay area, San Jose and Oakland, are proud to present La Arrolladora Banda el Limon de Rene Camacho in concert. This romantic engagement, which serves as a prelude to the celebration of Valentine's Day, will be at the Oracle Arena in Oakland, California on February 11, 2017. Tickets currently on sale at www.ticketmaster.com
The success of La Arrolladora Banda el Limon de Rene Camacho is undeniable. The band's has established themselves as champions for Mexican music with their high-grossing concerts, collection of awards, and the outstanding amount of records they have sold (backed by RIAA-certified gold and platinum albums); La Arrolladora Banda el Limon de Rene Camacho will fulfill the desire of their fans when they arrive at the stage of La Musica, 93.3FM La Raza for an intimate concert experience at one of the most important venues of the Bay Area, Oracle Arena of Oakland.
About Spanish Broadcasting System
Spanish Broadcasting System, Inc. is a leading Hispanic media company that owns and operates 17 radio stations located in the top U.S. Hispanic markets of New York, Los Angeles, Miami, Chicago, San Francisco and Puerto Rico, airing the Spanish Tropical, Regional Mexican, Spanish Adult Contemporary, Top 40 and Latin Rhythmic format genres. SBS also operates AIRE Radio Networks, a national radio platform which creates, distributes and markets leading Spanish-language radio programming to over 100 affiliated stations reaching 93% of the U.S. Hispanic audience. SBS also owns MegaTV, a television operation with over-the-air, cable and satellite distribution and affiliates throughout the U.S. and Puerto Rico. SBS also produces live concerts and events and owns multiple bilingual websites, including www.LaMusica.com, an online destination and mobile app providing content related to Latin music, entertainment, news and culture. For more information, visit us online at spanishbroadcasting.com.