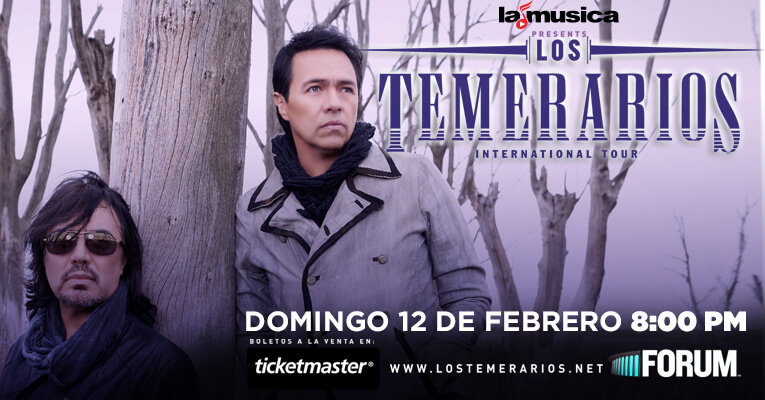 CELEBRATING VALENTINE'S DAY AT THE FORUM IN INGLEWOOD, CALIFORNIA
TICKETS AVAILABLE AT WWW.TICKETMASTER.COM
Los Angeles, CA. (January 18, 2017)— LaMusica the free mobile application that allows users to stream music/video, listen to live radio shows and create their playlists—owned by (SBS) Spanish Broadcasting System, Inc. (Nasdaq: SBSA), and 97.9 FM La Raza, Los Angeles' favorite radio station, is pleased to present Los Temerarios in concert on February 12, 2017. The concert will serve as a prelude to Valentine's Day at The Forum of Inglewood, California. This will not be the first time the international group has appeared at the Forum. In previous years Adolfo and Gustavo Angel, the founding members of "Los Temerarios", have offered extraordinary concerts at the venue. Tickets are currently on sale. Tickets can be obtained by visiting either www.ticketmaster.com or the Forum box office.
After successfully touring through major cities of both the United States and Mexico, Los Temerarios will return to the stage with a new show that will include their greatest hits as well as tracks from the hotly anticipated "Te Diré Que No" and the premiere of their new song "Solo Quiero Olvidarte" in all digital stores under their own music label Virtus Inc. Composed and produced by Adolfo Angel, "Solo Quiero Olvidarte" is a rhythmic ballad with lyrics that reflect the moment following a romantic split.
The Latin Grammy and Latin Billboards Music Award-winning artists, will kick off their 2017- 2018 tour in Los Angeles, California following up with concerts in major venues across the United States. Los Temerarios have appeared in the most prestigious theaters and stadiums including Radio City Music Hall (where they were the first Mexican artists to lead a concert), at the Sports Arena in Long Island (where they performed with Bruce Springsteen and Michael Jackson) and the National Auditorium of Mexico City (in which they were the first artists ever to perform there).
"Los Temerarios" have sold more than 45 million albums, released 34 live and compiled productions, in addition they have produced more than 28 music videos including the most recent one for their single "Solo Quiero Olvidarte". "Los Temerarios" will continue launching tracks digitally every three months, two at a time, of their 10-track album.
The special performance presented by 97.9FM La Raza promises to surpass the limits of the live concert experience by giving attendees a spectacle that will cross all musical boundaries just days before Valentine's Day.
ADOLFO ANGEL
Born on September 1 in Fresnillo Zacateca, Adolfo is the sensitive brother who is full of love for life and nature. A talented man with a deep love for music, Adolfo has responsibly handled this passion from a very young age. He is simply a creative, hardworking artist with a clear vision and firm goals. His sensitivity in music and his vision in the business world has led him to successfully lead the institution that professionally makes it possible for Los Temerarios to be a successful and respected group. He is the founder of the group and its leader from the beginning, in charge of the keyboards, second vocals, producing and composing almost all of the discography of Los Temerarios, reasons for which they have been awarded so prestigiously.
GUSTAVO ANGEL
Born on May 1 in Fresnillo Zacatecas, Gustavo is the cheerful, charismatic brother who is always has a positive, can-do attitude. Gustavo possesses a rich, powerful voice that is not only surprising but also makes his talents indisputable. Gustavo is able to arouse the deepest emotions from audiences by singing ballads, rancheras, pop music or simply singing rhythmic notes. Gustavo has been performing alongside his brother Adolfo since the group's inception. In addition to serving as the group's lead singer and guitarist, Gustavo is a gifted composer. He has been recognized and awarded for his lyrics and songs.
After four decades dedicated to music, Los Temerarios have fully lived to their passion for music, which is reflected in their successful years in the music industry. Los Temerarios are characterized by their versatility and artistic innovations from their unmistakable ballads, rhythms and original interpretations of Mexican music.
Los Temerarios have become an image that represents strength, respect and prestige in the musical field throughout Mexico, the United States, Central and South America. Through the years, hundreds of thousands of followers around the world have identified with the music of Los Temerarios thanks to the band's emotional lyrics and beautiful romantic ballads. Throughout their 40-year career, Los Temerarios have sold more than 45 million albums, released 34 productions including live and compiled productions, made more than 28 videos and earned the industry's top prizes. This is an indispensable group that continues to cross borders and unite the social strata.
For the latest news on Los Temerarios and this special concert, follow the event online and on social networks through @979laraza using the hashtag #TemerariosesRaza
For more information on Los Temerarios:
http://lostemerarios.net
https://www.facebook.com/Official.Los.Temerarios
https://twitter.com/los_temerarios
https://www.instagram.com/lostemerarios77
Suggested tweet:
.@los_temerarios in an intimate concert February 12 #Inglewood @theforum @979laraza #TemerariosesRaza #SoyLaMusica tickets ticketmaster.com
Don't forget to bring a date to see Los Temerarios this February 12, 2017 at The Forum in Inglewood, California. Tickets for sale in www.ticketmaster.com or at the Forum box office.
About Spanish Broadcasting System
Spanish Broadcasting System, Inc. is a leading Hispanic media company that owns and operates 17 radio stations located in the top U.S. Hispanic markets of New York, Los Angeles, Miami, Chicago, San Francisco and Puerto Rico, airing the Spanish Tropical, Regional Mexican, Spanish Adult Contemporary, Top 40 and Latin Rhythmic format genres. SBS also operates AIRE Radio Networks, a national radio platform which creates, distributes and markets leading Spanish-language radio programming to over 100 affiliated stations reaching 93% of the U.S. Hispanic audience. SBS also owns MegaTV, a television operation with over-the-air, cable and satellite distribution and affiliates throughout the U.S. and Puerto Rico. SBS also produces live concerts and events and owns multiple bilingual websites, including www.LaMusica.com, an online destination and mobile app providing content related to Latin music, entertainment, news and culture. For more information, visit us online at spanishbroadcasting.com.
FOR INTERVIEWS, PRESS CREDENTIALS AND OTHER MEDIA INQUIRIES, PLEASE CONTACT:
Vladimir Gomez
Director of Communications & National Promotions