MIAMI, Oct. 3, 2016 /PRNewswire/ — Spanish Broadcasting System, Inc. ("SBS") (SBSA) (the "Company") today announced the addition of a full video channel line-up to its LaMusica music streaming app. The latest version of the app is available now and builds on its immersive mobile music offering with bi-cultural/bi-lingual, short-form vertical video content highlighting the world of Latin music, entertainment and pop-culture, created specifically by and for Hispanic millennials.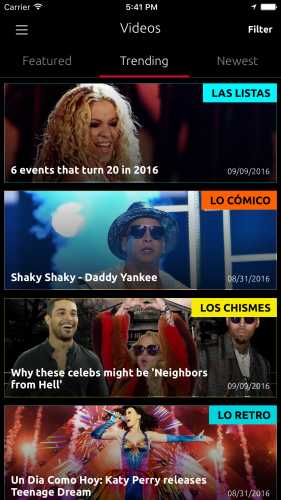 LaMusica's new landing page includes a video carrousel enabling users to preview the latest content, which is updated more than ten times a day. The new shows are comprised of "snackable" segments that range from 30 to 90 seconds, allowing users to instantly access the latest entertainment news while on-the-go. The programs include countdown of the day's music happenings, celebrity gossip, artist profiles, game shows and more. Additionally, a dedicated Video section includes trending videos with the most shares on LaMusica, and an archive of previously released vignettes.
"We've taken the mobile entertainment experience on LaMusica to a new level by creating a seamless audio and visual entertainment platform developed specifically for Hispanic millennial audiences," said Raul Alarcón, Jr., Chairman and CEO of SBS. "There is simply no other mobile platform designed to serve the unique interests of millions of young U.S. Hispanics with the breadth of authentic Latin programming that LaMusica offers. Our app not only unlocks the power of SBS' original content, it also provides advertisers and marketers with a dynamic platform to tap into this enormous (and growing) consumer group."
Mobile usage has increased 53% among Hispanics from 2014 to 2015, and 94% of Spanish dominant Hispanics now rely on mobile devices to watch online video, according to Yahoo! LaMusica's comprehensive music and entertainment digital platform offers numerous options for advertisers and media buyers to engage with this immense audience by way of video content publishing, custom ad products, custom-branded music stations and geo-targeted push notifications, among other integration opportunities.
Boost Mobile, a leader in the no-contract wireless industry, has signed on as the exclusive launch sponsor of LaMusica and its branding will be organically woven into the app's flagship video series, "Toma Nota" and "El Vacilón De La Mañana." The app will also feature a Boost Mobile-branded radio station, and geo-fencing technology to push location-based notifications to consumers in proximity of Boost's retail locations. Boost Mobile will also be incorporated into LaMusica's social media campaigns and on-air promotions on affiliated SBS radio stations throughout the nation.
"We are thrilled to sign on Boost Mobile as our premier launch sponsor, who understands the power of LaMusica's growing young Latino audience," said Jesus Lara, EVP, Digital Media of SBS. "Short-form, vertical video adoption has been growing exponentially, and we are eager to bring this experience to LaMusica. The response to the app has been terrific and we are excited to introduce the new programming slate, which continues to reflect the deep-rooted relationship Latinos have with music and pop-culture."
 In addition to the new video feature, users can continue to live stream all of SBS' radio stations and create their own unique radio experience with access to over 200 curated playlists based on genre, mood, activity, DJs and influencers. Users also have the ability to further personalize their radio experience with the "My Radio" feature, while accessing the app's catalogue of over 23 million songs.
The free app is available for download for iPhones via the iTunes App store and for Android via the Google Play store. Users will be able to enjoy LaMusica with either an English or Spanish-language interface. More information about the LaMusica app and its many features can be found on http://www.lamusica.com/.
Among the new programming available today are:
El Vacilón De La Mañana , El Show: A daily web series featuring NYC's number one morning radio show on WSKQ-FM. Originating from its actual on-air studio, this variety show will feature the day's "Trending Topics" in entertainment; news, celebrity gossip and actualities, along with some of Vacilón's most popular comedic segments. Starring NYC's top morning show talent line up: DJ Aneudy, Jessica Pereira, El Shino Aguakate Francis Mendez, Natalia Girado and the musical talent of El Beko.
Toma Nota: LaMusica's flagship countdown show, chronicles the artists and celebrities making the most noise — from their latest sounds to their most talked-about posts It's the stuff you must know before you start your day.
El Cheez-Me: Blend a daily dose of pop culture gossip with a big spoonful of personality and presto! Feast your eyes and ears on the most celebrity-obsessed social media butterfly, "La Cheez-mosa Fabulosa." Each episode delves into the most "important" gossip she can find, gathered from her most "trusted" sources – including Instagram, celebrity tweets and plain ol' rumormongers!
Un Día Como Hoy:  Hop in LaMusica's time machine and relive the incredible and unforgettable moments that shaped pop culture. Remember when Shakira got all greasy-sexy in the 'La Tortura' video? How about when Marc & JLo called it quits? Or what about when Ricky Martin tore the roof off the Grammys? Latinos have been at the center of some major OMG moments.
Botas y Sombrero: All the biggest estrellas in Regional Mexican music are right here – 'Botas y Sombrero' celebrates one of the leading genres of Latin music in the U.S., covering music news from the biggest stars in Duranguense, Ranchera, Norteña, Banda, Mariachi, Grupera, and Tejano. The show brings fans closer to their musical heroes, with exclusive interviews they won't find anywhere else.
El Listado: Let's face it, life is a "listicle." And LaMusica brings listicles to life with this highly shareable show that's sure to leave fans wanting more. We've got bite-sized fun-facts that help you break down life's biggest questions into a short laundry-list of infotainment. We tackle things you absolutely need to know, like the nine ways Maluma is just like your abuelita!
Minuto Loco: LaMusica's game show – fitted to your phone screen! Flustered artists fight the clock while answering interview questions that might make them blush.
La Letra Dice: Catchy songs aren't always a good thing, especially when you don't know what  the lyrics mean. Each episode of 'La Letra Dice' is a music lesson of the highest order, where we deconstruct the true meaning of your favorite songs. It's a surprisingly delicious piece of music academia you won't soon forget.
Photo Booth: Need to step up your selfie game? Chances are you're terrible at posing which explains why your selfies all look the same. Luckily, your favorite celebrities have some tips! Watch as stars like Nicky Jam, Chiquis Rivera, Daddy Yankee and others step into the LaMusica Photo Booth and share their best camera poses.
JapiBerdi: JapiBerdi to you! LaMusica brings you the most interesting factoids of your favorite artists on their actual birthdays.
Que Animal: How well do you know your favorite artists? How about their pets? Test your skill as you try to guess both through a series of clues on ¡Que Animal!
About Spanish Broadcasting System, Inc.
Spanish Broadcasting System, Inc. owns and operates 17 radio stations located in the top U.S. Hispanic markets of New York, Los Angeles, Miami, Chicago, San Francisco and Puerto Rico, airing the Spanish Tropical, Regional Mexican, Spanish Adult Contemporary, Top 40 and Latin Rhythmic format genres. SBS also operates AIRE Radio Networks, a national radio platform which creates, distributes and markets leading Spanish-language radio programming to over 100 affiliated stations reaching 90% of the U.S. Hispanic audience. SBS also owns MegaTV, a television operation with over-the-air, cable and satellite distribution and affiliates throughout the U.S. and Puerto Rico. SBS also produces live concerts and events and owns multiple bilingual websites, including www.LaMusica.com, an online destination and mobile app providing content related to Latin music, entertainment, news and culture. For more information, visit us online at spanishbroadcasting.com.