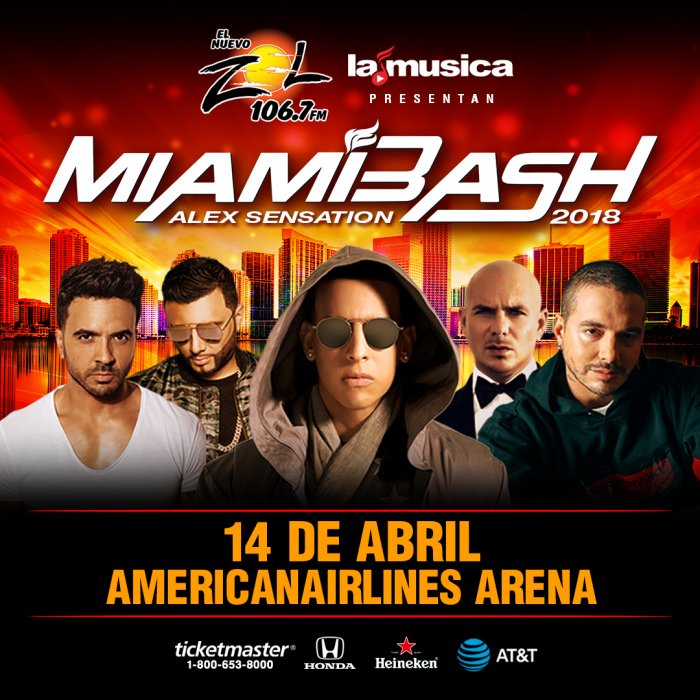 CONFIRMED ARTIST'S: DADDY YANKEE, PITBULL, J BALVIN, LUIS FONSI, ALEX SENSATION, J ALVAREZ, ZION Y LENNOX, JOWELL & RANDY, JACOB FOREVER AND OTHERS TO BE ANNOUNCED
Miami, FL. (February 28, 2018)— LaMusica App from Spanish Broadcasting System, Inc. (the "Company" or "SBS") (OTCQX: SBSAA) alongside EL NUEVO ZOL 106.7FM, the leading radio station in South Florida, announced the biggest concert of 2018 "Alex Sensation MIAMIBASH", April 14 at AmericanAirlines Arena in Miami, Florida. Tickets currently on sale: www.ticketmaster.com.
The stars are truly aligning for "Alex Sensation MIAMIBASH". The star-studded lineup consists of J Balvin, Luis Fonsi, Alex Sensation, J Alvarez, Zion y Lennox, Jowell & Randy, Jacob Forever, plus many more to be confirmed. Tickets for this celebration of urban and Latin music can be purchased at Ticketmaster online www.ticketmaster.com and by phone at 1-800-653-8000.
Join the conversation on social networks using #MiamiBash2018 from @elzol1067fm @lamusica. Follow us on Twitter: @elzol106fm on Instagram: @elzol1067fm, @lamusica, on Facebook.com/ElZOL106.7FM and online: www.elzol.lamusica.com
LaMusica App and El Nuevo Zol 106.7FM have also announced that this star-studded event will feature a multi-million dollar production that will include a 360-degree rotating stage as well as the latest in concert technology including lights, pyrotechnics, three-dimensional effects, laser sets, giant screens and a sound that will surely vibrate all attendees at the AmericanAirlines Arena.
"Our goal has always been to produce unprecedented events and on April 14 we will be bringing together these great figures at the iconic AmericanAirlines Arena," said Bianca Alarcon, Head of Content Development, LaMusica App.
"We are pleased to present this grand show for the fifth consecutive year in South Florida. The Alex Sensation MiamiBash features the best of music and concert technology so that the loyal audience of EL NUEVO ZOL 106.7FM could enjoy a concert of the best quality possible," said Donny Hudson VP, General Manager of SBS Miami. "Alex Sensation MIAMIBASH will once again put the bar at the highest level in terms of production, artists, surprises and unique consumer experiences linked to our activations in conjunction with our sponsors."
"SBS Miami continues with its tradition of producing the most important concert of Latin urban music in the world. Alex Sensation MiamiBash exceeds that goal by bringing to South Florida the highest representatives of the genre as well as well as other major artists who like the new generation of bicultural and bilingual Latino youth," said Jesus Salas, EVP of Programming, Multiplatform Coordinator SBS.
Alex Sensation MiamiBash 2018 is sponsored by LaMusica App among other brands.
Suggested Tweet:
#MIAMIBASH2018 April 14 will be a historic night at #AmericanAirlinesArena @elzol1067fm @lamusica tickets at ticketmaster.com
# # #
Media Contact SBS:
Vladimir Gomez, vgomez@sbscorporate.com, (786) 470-1644