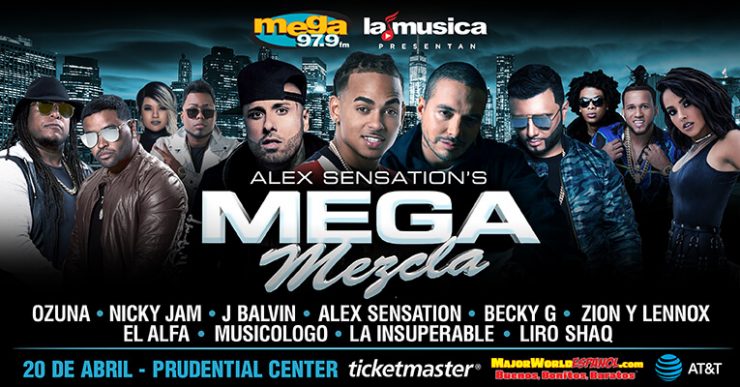 CONFIRMED ARTIST'S: OZUNA, NICKY JAM, J BALVIN, ALEX SENSATION, BECKY G, ZION Y LENNOX, EL ALFA, MUSICOLOGO, LA INSUPERABLE, LIRO SHAQ, AND OTHERS TO BE ANNOUNCED
New York, NY. (February 28, 2018)—LaMusica App from Spanish Broadcasting System, Inc. (the "Company" or "SBS") (OTCQX: SBSAA) alongside Mega 97.9FM, the number one radio station in the general market of New York, revealed "Mega Mezcla Alex Sensation" at Prudential Center on April 20th, 2018. The list of confirmed stars for this event are Ozuna, Nicky Jam, J Balvin, Alex Sensation, Becky G, Zion y Lennox, El Alfa, Musicologo, La Insuperable, Liro Shaq and others to be announced. Tickets for this show are available on sale at: www.ticketmaster.com.
The "Mega Mezcla Alex Sensation" from Mega 97.9 FM and LaMusica APP promises to be a euphoric concert that will get fans moving to the music of their favorite artists. The concert will bring a spectacular set of scenery, lights and sound to allow these superstars to, as always, put on a masterful show.
Tickets will be available online at www.ticketmaster.com and through the phone at 1-800-745-3000. Join the conversation on social networks using the hashtag #MegaMezcla2018. Follow on Twitter and Instagram @mega979nyc, on Facebook at Facebook.com/Mega979FM and online at http://lamega.lamusica.com.
"Our goal has always been to produce unprecedented events and on April 20 we will be bringing together these great figures at the iconic Prudential Center," said Bianca Alarcon, Head of Content, LaMusica App.
"We are pleased to present this mega production with the best music and concert technology; So that the faithful audience of Mega 97.9FM could enjoy a show of the best quality possible," said Maire Mason, VP and General Manager of SBS New York.
Suggested Tweet:
#MEGAMEZCLA2018 April 20 historic night at #PrudentialCenter @mega979nyc @lamusica tickets available at: www.ticketmaster.com
# # # 
Media Contact SBS: 
Vladimir Gomez, vgomez@sbscorporate.com, (786) 470-1644.