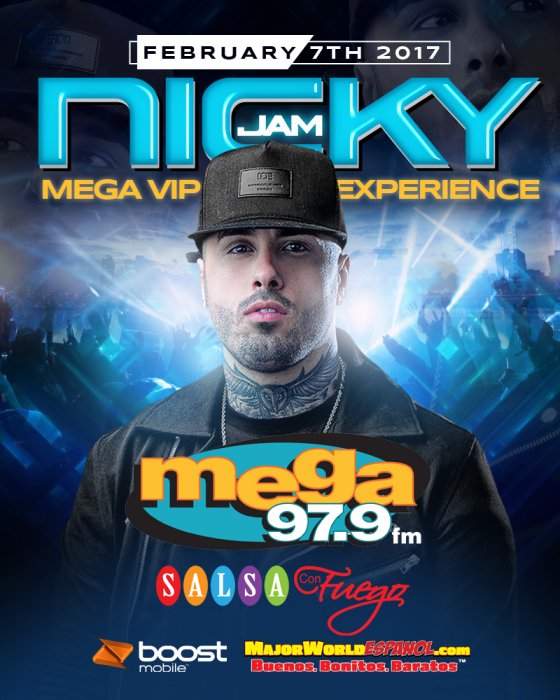 SPONSORED BY BOOST MOBILE, MAJORWORLDESPANOL.COM
New York, NY. (February 2, 2017)—The application LaMusica from Spanish Broadcasting System, Inc. (SBS) (OTCQX: SBSAA) alongside the number one general market radio station in New York Mega 97.9FM is offering a one-in-a-lifetime experience. Mega 97.9FM is giving listeners the chance to win VIP access to a private event to celebrate the release of international star Nicky Jam's new album, "Fenix."
The event, known as the "Mega VIP Experience", will be held at the club Salsa con Fuego in the Bronx on February 7th at 7:00 p.m. (EST). Listeners will get their chance to win VIP passes only by listening to Mega 97.9 FM.
Mega star Nicky Jam has always been present at the most important events of Mega 97.9FM and Amor 93.1FM, which comes from Jam's appreciation of the unconditional support that he has received from SBS.
"The Mega VIP Experience is a touching opportunity for fans across the country to see their favorite artists live," said Arturo Sosa, Programming Director of Mega97.9FM and Amor 93.1FM. "It's great to introduce international music sensation Nicky Jam along with our sponsors Boost Mobile and MajorWorldEspanol.com, who are always on the move."
"For many years, we set out to celebrate Hispanic youth by connecting fans, artists and brands using these private events and thanks to our sponsors, this is exactly what we have achieved with VIP events in our markets," said Eric Garcia, CRO of SBS Radio and General Manager of SBS New York. "Mega 97.9FM and Love 93.1FM continue to bring the most outstanding artists face-to-face with their fans and this time we are very pleased to have Nicky Jam and other international stars as we extend this experience."
Following an incredible year, Nicky Jam has earned considerable recognition for his work. For two years in a row, Billboard magazine named him the most outstanding artist of the year as well as once again being YouTube's only Latin artist to stack up views with videos from his channel.
"El Amante" is Nicky Jam's latest single, which features an application for fans to exchange romantic messages with their significant other. The song is part of the awaited album "FENIX" produced by Saga WhiteBlack, (Sony Music Latin), as part of the soundtrack of XXX: The Return of Xander Cage, which happens to be Nicky Jam's Hollywood acting debut.
The music video for "El Amante" (The Lover) is a love story featuring a protagonist who tries to express his emotions for the woman he loves through the use of extensive audio equipment and his supportive community in this fun love story.
"Yes, I am the lover but the lover is also you and all those who have done something crazy for love and do not regret it," Nicky Jam said.
The Puerto Rican singer did not make it clear whether or not the story comes from his own life but he invites all of his followers to value their partner by expressing their truest feelings to them.
Any members of the media wishing to attend this private event must register with Vladimir Gomez via email at vgomez@sbscorporate.com. Members of the media must receive confirmation of coverage prior to their arrival at the event.
Mega VIP Experience with Nicky Jam:
Salsa con Fuego
2297 Cedar Ave
Bronx, NY 10468
Time of registration for the media: 6:00pm- 6:30pm (EST)
Time of the event with Nicky Jam: 7:00pm (EST)
About Spanish Broadcasting System
Spanish Broadcasting System, Inc. is a leading Hispanic media company that owns and operates 17 radio stations located in the top U.S. Hispanic markets of New York, Los Angeles, Miami, Chicago, San Francisco and Puerto Rico, airing the Spanish Tropical, Regional Mexican, Spanish Adult Contemporary, Top 40 and Latin Rhythmic format genres. SBS also operates AIRE Radio Networks, a national radio platform which creates, distributes and markets leading Spanish-language radio programming to over 100 affiliated stations reaching 93% of the U.S. Hispanic audience. SBS also owns MegaTV, a television operation with over-the-air, cable and satellite distribution and affiliates throughout the U.S. and Puerto Rico. SBS also produces live concerts and events and owns multiple bilingual websites, including www.LaMusica.com, an online destination and mobile app providing content related to Latin music, entertainment, news and culture. For more information, visit us online at spanishbroadcasting.com.
FOR MEDIA INQUIRIES, PLEASE CONTACT:
Vladimir Gomez
Director of Communications & National Promotions