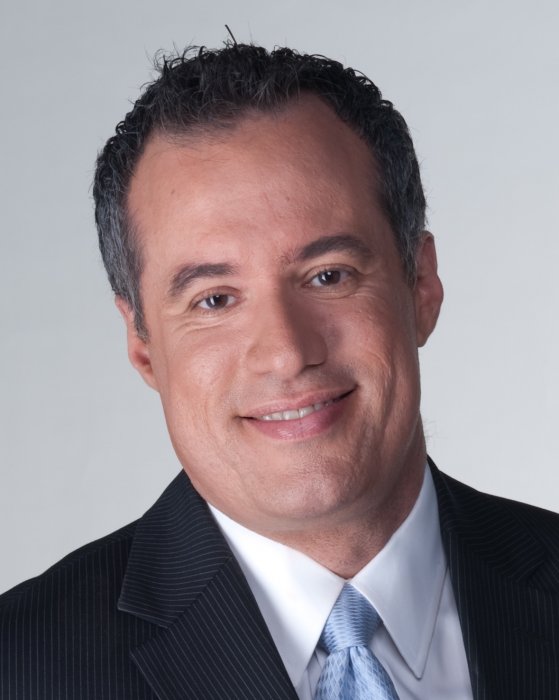 Our Executive Vice-President & Chief Operating Officer, Mr. Albert Rodriguez will be participating this year at the Hispanic Radio Conference presented by Radio Ink as a panelist.
A Frank Discussion About the Industry Today
That Can Affect Your Bottom Line Tomorrow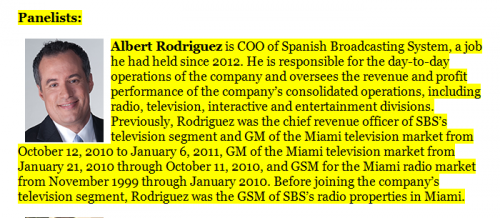 When the industry's biggest players gather together at the Hispanic Radio Conference, no topic is too big or too small and no subject too controversial. They could discuss the impact changes at the FCC will have on you. Where digital programming is going, and where they see new revenue opportunities. How they are finding, developing, and retaining sales and on-air talent. They could speak about politics and the industry's role in a new, uncharted landscape.
The Hispanic Radio Executive Leadership Roundtable is unscripted. But, because these are the industry's leaders, their reactions and observations will help guide your plans and response to budgets, sales and programming for the coming year.
Jose Valle, former president of Univision Radio and NAB Radio Board chair, will facilitate a frank conversation about our industry between Ismar Santa Cruz, VP/managing director/radio strategy, Univision Communications; Albert Rodriguez, EVP/COO, Spanish Broadcasting System; Norberto Sanchez, chairman and CEO of Norsan Group; and Enrique Santos, chairman and chief creative officer of iHeartLatino.
From Wall Street investors to your local direct sales, ratings, and technology, Hispanic radio leadership's perspective on today's industry will help you navigate what's coming tomorrow.
Moderator:
Jose Valle served as president of Univision Radio from 2010 to 2015, leading the transformation and modernization  of what was a traditional radio group into a best-in-class "listener first" based organization. Over the last year, he served as president of Political & Advocacy Group Sales for UCI, overseeing political advertising strategy and sales to advocacy groups, trade associations, and campaigns for all UCI's platforms. Earlier in his career he was VP/GM of Univision Radio Los Angeles. Before joining UCI, he was president and GM of Telemundo's flagship station, KVEA.
Panelists:
Albert Rodriguez is COO of Spanish Broadcasting System, a job he had held since 2012. He is responsible for the day-to-day operations of the company and oversees the revenue and profit performance of the company's consolidated operations, including radio, television, interactive and entertainment divisions. Previously, Rodriguez was the chief revenue officer of SBS's television segment and GM of the Miami television market from October 12, 2010 to January 6, 2011, GM of the Miami television market from January 21, 2010 through October 11, 2010, and GSM for the Miami radio market from November 1999 through January 2010. Before joining the company's television segment, Rodriguez was the GSM of SBS's radio properties in Miami.
Norberto Sanchez is chairman and CEO of the Norsan Group, which runs Norsan Multimedia, a Spanish-language communications company that includes 12 radio stations in the Southeast, four of them covering the Charlotte market; the company also owns Spanish-language newspapers. Sanchez started his company in Atlanta and has gradually been moving more and more operations to Charlotte. Apart from the communications industry, the Norsan Group has a large role in the food industry, including a restaurant and catering division and Prime Meats, a USDA meat-processing facility serving the hospitality industry.
Ismar Santa Cruz is vice president/managing director of radio strategy for Univision Communications, overseeing content strategy, music genre curation, and continual success for Univision's radio portfolio and leading programming initiatives for its 64 owned-and-operated stations in 15 top U.S. Hispanic markets and Puerto Rico. He also plays an integral role in Univision Music's multi-platform strategy. Santa Cruz joined UCI to co-found the internal strategic consulting and consumer research division of Univision Radio. Santa Cruz has been instrumental in achieving double-digit audience growth year-over-year on broadcast and digital platforms, developing Univision's Sonic Logo across all brands, and identifying Univision's 2014 FIFA World Cup anthem, "Adrenalina."
Enrique Santos is chairman and chief creative officer of iHeartLatino, heading iHeartMedia's Latin direction and strategy. His daily morning show is syndicated nationally via Premiere Networks and airs live from iHeart's TÚ 94.9 in Miami. Born to Cuban parents in Chicago, Santos moves freely between the Hispanic and mainstream American radio landscapes. His bilingual broadcasts are a crossover hit, combining humor, social satire, and political commentary to bridge the cultural and generational divide of a diverse cosmopolitan audience. No matter how busy his schedule, Santos has never lost his community ties and continues volunteering as a reserve police officer for the City of Miami Police Department.
Book Now: The Hispanic Radio Conference has secured a limited number of rooms at the Hyatt Regency Pier Sixty Six at a special conference rate. Book your room now before they are gone!
Click here to register for the Hispanic Radio Conference.
Hyatt Regency Pier Sixty-Six
Fort Lauderdale, FL
March 28-29, 2017