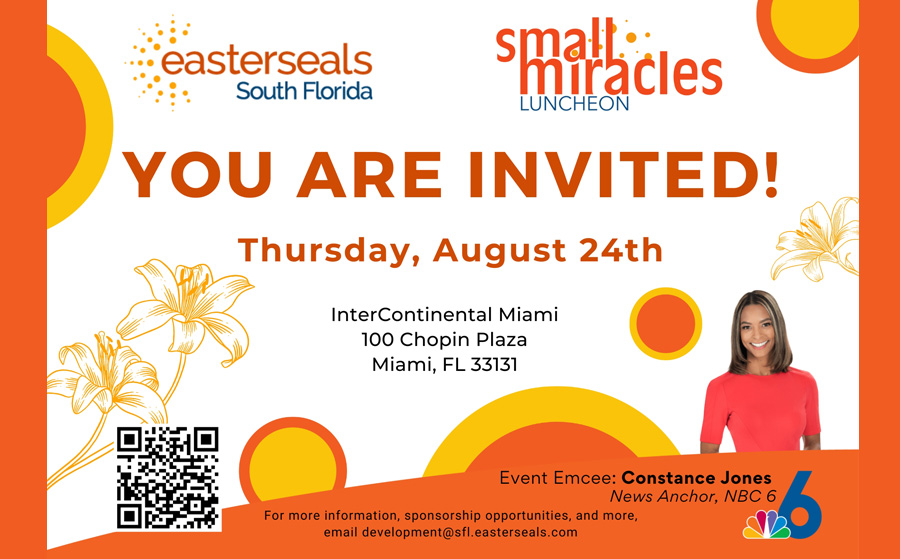 Event Details: Small Miracles Luncheon
Date: Thursday, August 24th
Time: 11:30 AM
Location: InterContinental Miami
Easterseals South Florida is a non-profit organization that has proudly served the South Florida community for over 80 years. Their mission is to provide equal and inclusive services to individuals with disabilities through better education, advanced healthcare, job opportunities, and community upliftment. They have ten locations around Greater Miami, Kendall, and Pembroke Pines.
Easterseals helps the community by providing necessary services to individuals with disabilities, including a Special School with a Child Development Center for young children with disabilities and developmental delays, primary and secondary educational academy for children diagnosed with autism, and a secondary school with a Culinary Arts program for young adults. They also offer "Head Start" programs for preschool children from low-income families and support for their families, as well as Day Care Centers for older adults with diagnoses of dementia, Alzheimer's, or related memory disorders, allowing them to continue living in their homes and community without moving to assisted living or nursing homes. Additionally, they provide Home Respite services for older adults, supporting caregivers so they can rest, work, and attend to personal matters, and offer free companion services to veterans and military families provided by AmeriCorps volunteers (eligibility-based, these services are free for the families).
The "Small Miracles Luncheon" is their major annual fundraising event. This event brings together community leaders and committed corporate partners from Miami-Dade and Broward counties. Esteemed pillars of the community and local companies such as SBS, Mega TV, Ryder, Mastec, Bank of America, and many others join us every year to support our mission of facing disabilities together.
All funds raised through the "Small Miracles Luncheon" will help expand our services in key areas of the programs to meet the growing needs of our South Florida community.
You can help too by sponsoring, attending, and spreading the word about this fantastic event! We encourage our South Florida community leaders to join us in our goal of raising vital funds to assist the children and families we serve in South Florida.
Thank you again for considering this invitation. Together, let's make a significant impact on the lives of those in need.
-SBS