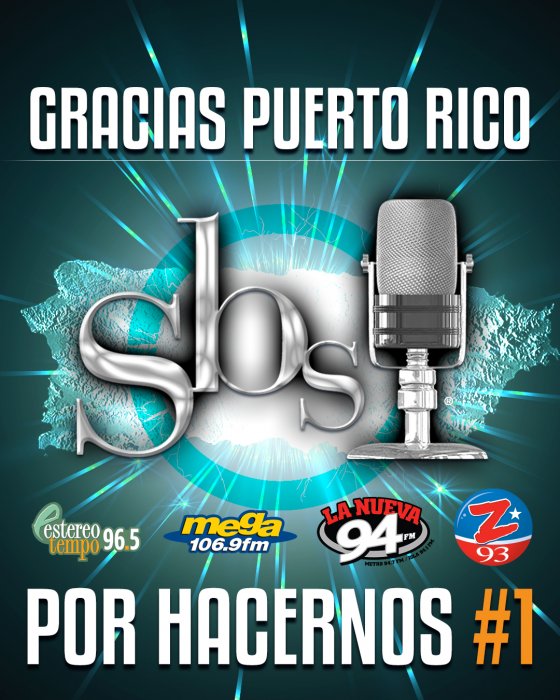 LEADING RADIO STATIONS OF THE ISLAND OF PUERTO RICO ARE ZETA 93, LA MEGA, ESTEREOTEMPO AND LA NUEVA 94
Guaynabo, Puerto Rico (January 17, 2017)—Spanish Broadcasting System, Inc. (SBS) (NASDAQ: SBSA) is once again positioned to be the leading broadcasting Company in Puerto Rico. According to the recent Fall book from Nielsen Audio, SBS and its four main stations—Zeta 93, La Mega, Estereotempo, La Nueva 94—ranked highly amongst listeners in Puerto Rico.
Running from October to December of last year, the survey has demonstrated the influence of SBS in Puerto Rico.
"This is a solid beginning to the new year. Both radio and television are developing new entertainment platforms within the formats that people have made their favorite. Pending our programming and social networks, 2017 is sure to bring many surprises to our beloved audience," said Sixto Pabon, Vice President of Operations, SBS Puerto Rico.
"Excellent ratings for SBS Puerto Rico. El Circo de La Mega continues to lead with the majority of the ratings in the morning and El Gordo y La Pelua from La Mega in the afternoons strongly solid. Estereotempo with new implementations to our programming increased the audience. We are celebrating our success," said Rogie Gallart, Programming Director of SBS Puerto Rico.
Having come in first place among FM transmitters for 12 years, Zeta 93 once again continues its winning streak as the principal Salsa station in the Island. La Mega 106.9 dominated without competition on Mondays to Sundays from 6:00 a.m. to 12:00 midnight in all demographics while La Nueva 94 remained number one in the coveted demographic of 18 to 34. Finally, Estereotempo has continued to grow in popularity with women between the ages of 25 to 54 in the 6:00 a.m. to 7:00 p.m time slot.
SBS would like to congratulate SBS Puerto Rico for both their leadership and performance in the Nielsen Audio's survey.
About Spanish Broadcasting System
Spanish Broadcasting System, Inc. is a leading Hispanic media company that owns and operates 17 radio stations located in the top U.S. Hispanic markets of New York, Los Angeles, Miami, Chicago, San Francisco and Puerto Rico, airing the Spanish Tropical, Regional Mexican, Spanish Adult Contemporary, Top 40 and Latin Rhythmic format genres. SBS also operates AIRE Radio Networks, a national radio platform which creates, distributes and markets leading Spanish-language radio programming to over 100 affiliated stations reaching 93% of the U.S. Hispanic audience. SBS also owns MegaTV, a television operation with over-the-air, cable and satellite distribution and affiliates throughout the U.S. and Puerto Rico. SBS also produces live concerts and events and owns multiple bilingual websites, including www.LaMusica.com, an online destination and mobile app providing content related to Latin music, entertainment, news and culture. For more information, visit us online at spanishbroadcasting.com.
MEDIA & PRESS CONTACT SBS-MEGATV:
Vladimir Gómez
Director of Communications & National Promotions
SBS Puerto Rico:
Waldo Díaz
WD Group – Origami Creative Strategies
787-364-8181 | waldo@waldodiaz.com
Ángel Torres
WD Group – Origami Creative Strategies