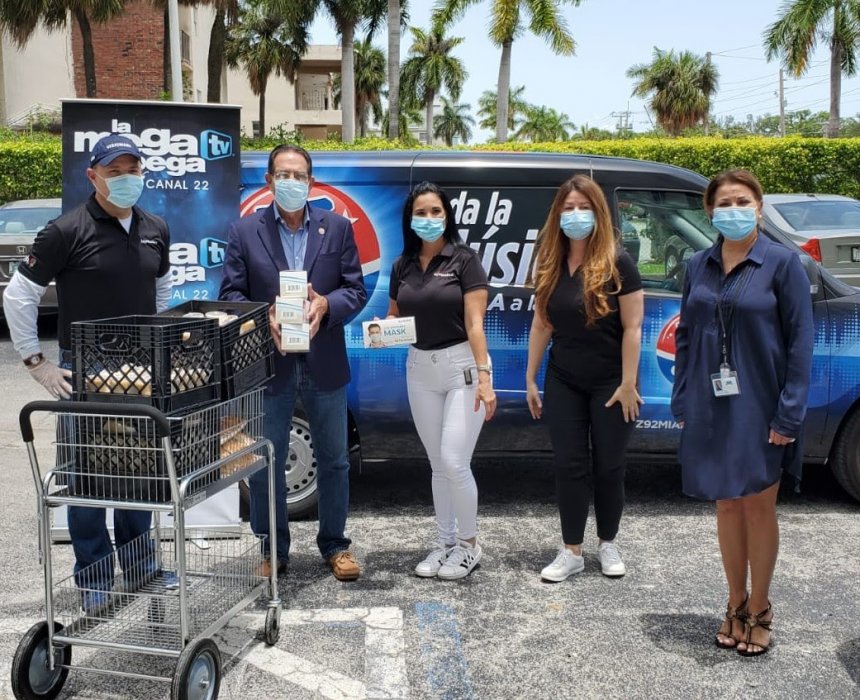 Miami, FL. (July 23, 2020).—Spanish Broadcasting System, Inc. ("SBS") (OTCQX: SBSAA), the leading Minority certified, Hispanic multimedia and entertainment company in the U.S., partnered with Miami-Dade County Commissioner Hon. Xavier L. Suarez to delivered sweet treats to seniors in Flagami's Rebecca Towers Condominium during the month of May. Commissioner Suarez wanted to spend his birthday bringing joy to the seniors who live in this condominium and have not left the complex due to the risk they face because of COVID-19 pandemic. During the visit all COVID-19 CDC guidelines of wearing masks and maintaining self-distance were followed to ensure the health and safety of everyone.
As Miami-Dade County, South Florida confronts challenges with the COVID-19 pandemic, food accessibility has become a growing concern. To provide nourishment and comfort to our seniors, SBS executive team Albert Rodriguez COO of SBS, Donny Hudson VP of Sales and General Manager SBS Miami, Tomas N. Regalado of SBS, Carlos Herrera, General Sales Manager of MegaTV, Viviana De La Hoz as well as Mileidys Rizo, both Account Executives from MegaTV and SBS Radio Sales team delivered the sweets to the seniors. Our gratitude to Commissioner Hon. Xavier L. Suarez and his staff as well as Holiday Bakery.
"Until we as a community recover from COVID-19, we will continue to help our seniors during this pandemic," stated Albert Rodriguez COO of SBS. "Happy to be joined by Commissioner Xavier L. Suarez in helping distribute sweets to the seniors in his district 7."
Spanish Broadcasting System is dedicated to being there for the community when they need us the most, and we believe there is no better time than now to show acts of kindness.
About Spanish Broadcasting System, Inc.
Spanish Broadcasting System, Inc. owns and operates 17 radio stations located in the top U.S. Hispanic markets of New York, Los Angeles, Miami, Chicago, San Francisco and Puerto Rico, airing the Spanish Tropical, Regional Mexican, Spanish Adult Contemporary, Top 40 and Latin Rhythmic format genres. SBS also operates AIRE Radio Networks, a national radio platform which creates, distributes and markets leading Spanish-language radio programming to over 250 affiliated stations reaching 95% of the U.S. Hispanic audience. SBS also owns MegaTV, a television operation with over-the-air, cable and satellite distribution and affiliates throughout the U.S. and Puerto Rico. SBS also produces live concerts and events and owns multiple bilingual websites, including LaMusica, a mobile app providing content related to Latin music, entertainment, news and culture. For more information, visit us online at www.spanishbroadcasting.com.