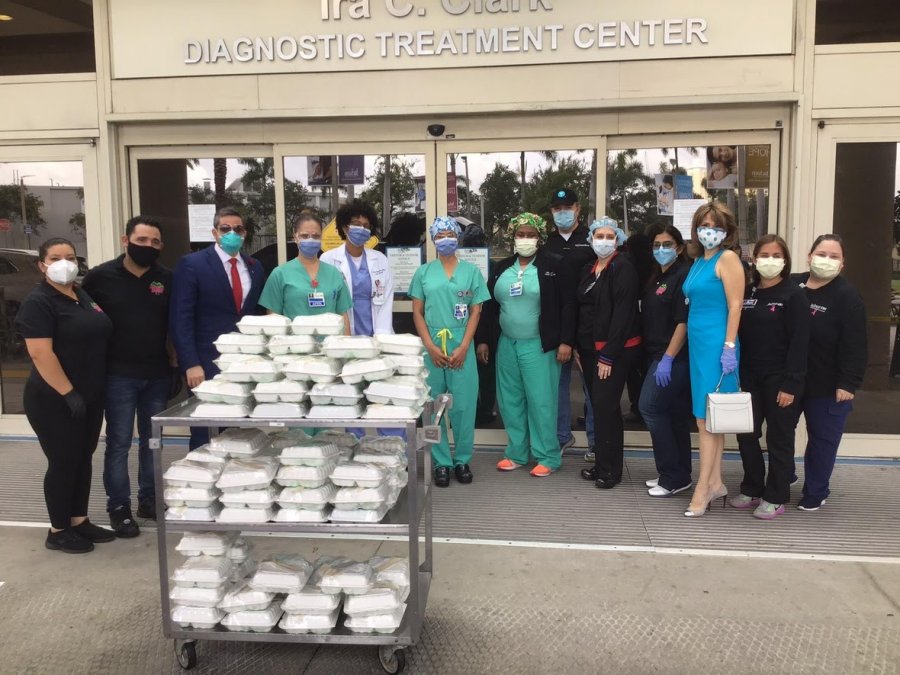 Miami, FL. May 6th, 2020.一With doctors, nurses, and healthcare workers in South Florida risking their wellbeing for their communities, SpanishBroadcasting System and the South Florida Hispanic Chamber of Commerce in collaboration with Holiday Bakery and Art Deco Supermarket and Cafeteria worked together to delivered 100 hot meals and plenty of sweets and gratitude for the healthcare heroes at Jackson Memorial Hospital this past, April 29th, 2020 at 11am.
As the United States confronts challenges with the COVID-19 pandemic, food accessibility has become a growing concern, especially frontline workers serving the public around the clock. To provide nourishment and comfort to health care workers, SBS executive team Albert Rodriguez COO of SBS, Donny Hudson VP of Sales and Tomas N. Regalado with various volunteers from the South Florida Hispanic Chamber of Commerce delivered 100 hot meals to healthcare providers. Over the weeks, health care workers accepting the meals have expressed their gratitude to SBS, SFHCC, Holiday Bakery and Art Deco Supermarket and Cafeteria.
"The work of the medical community in combating COVID-19 across the nation has been inspiring and absolutely incredible. While there is no way to truly repay our doctors, nurses, first responders and other health care workers for making this sacrifice and taking the risks they are taking every day, this effort is an important way to show our great appreciation of their heroic work on behalf of Spanish Broadcasting System," says Albert Rodriguez COO of SBS.
"Thank you Art-Deco Supermarket, Cafeteria and Spanish BroadcastingSystem for the incredible support. Personally I wish to thank the owners of Art Deco Supermarket, Wanda and Neove Rodríguez, members of the SFHCC and we are pleased to be able to collaborate in this cause. Jackson Memorial Hospital is a very important member of the SFHCC and they work closely on many projects with us," said Liliam M. López, President of SFHCC.
"We're humbled and honored to have the opportunity to help feed those who are on the front lines of this fight, as well as support our communities by providing business to local restaurants and establishments in this unprecedented time," says Donny Hudson VP of Sales and General Manager of SBS Miami. "The essence of our business is to be a good neighbor and help people. It's the ideal upon which we were founded, and it's who we are at our core."
Spanish Broadcasting System is dedicated to being there for the community when they need us the most, and we believe there is no better time than now to show acts of kindness.
About Spanish Broadcasting System, Inc.
Spanish Broadcasting System, Inc. owns and operates 17 radio stations located in the top U.S. Hispanic markets of New York, Los Angeles, Miami, Chicago, San Francisco and Puerto Rico, airing the SpanishTropical, Regional Mexican, Spanish Adult Contemporary, Top 40 and Latin Rhythmic format genres. SBS also operates AIRE Radio Networks, a national radio platform which creates, distributes and markets leading Spanish-language radio programming to over 250 affiliated stations reaching 95% of the U.S. Hispanic audience. SBS also owns MegaTV, a television operation with over-the-air, cable and satellite distribution and affiliates throughout the U.S. and Puerto Rico. SBS also produces live concerts and events and owns multiple bilingual websites, including LaMusica, a mobile app providing content related to Latin music, entertainment, news and culture. For more information, visit us online at www.spanishbroadcasting.com.
Media Contact SBS:
Vladimir Gomez
VP, Corporate Communications
(786) 394-9000 Ext. 1144