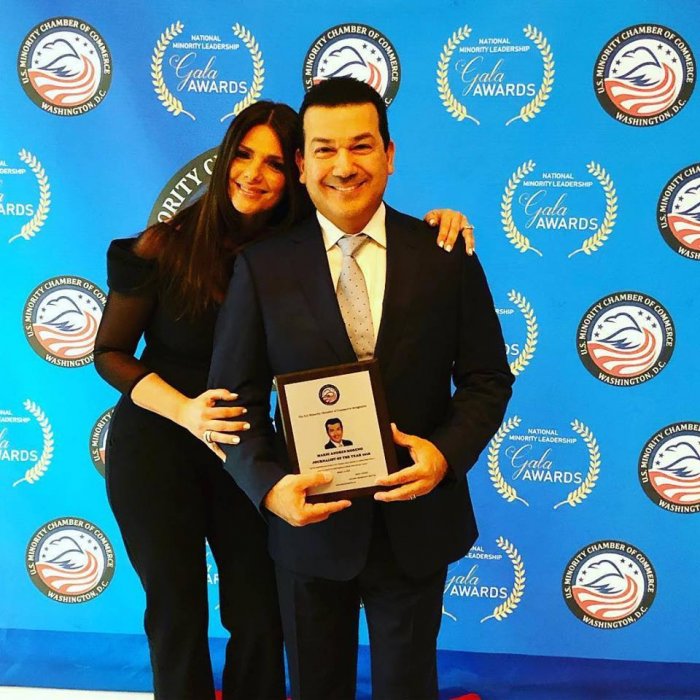 MARIO ANDRES MORENO RECOGNIZED BY THE U.S MINORITY CHAMBER OF COMMERCE (MCC)
Miami, FL. (January 14th, 2019)—Spanish Broadcasting System, Inc. ("SBS") (OTCQX: SBSAA), with its television network, MegaTV, announced that news anchor, Mario Andres Moreno received "The Journalist in Excellence of the Year Award 2018," at the U.S Minority Chamber's XXII year Gala Awards Banquet held on Saturday January 12, 2019 at the Renascence Banquet Hall in Miami Dade County, Florida. The event gathered over one hundred national and international leaders in the fields of business, government, academia and politics to share the inspiration of our most prominent journalists.
"The Journalist in Excellence of the Year Award 2018" is presented to Mario Andres Moreno to recognize his distinguished leadership and dedication to fostering professionalism in the world of news. The Chamber compiles its lists of outstanding local TV Journalists by conducting exhaustive peer-review surveys in which hundreds of business associates confidentially evaluate their professional peers. The award is based on several criteria including exceptional public service work, and success to present news with professionalism and effectiveness on one of the most impressive channels, MegaTV.
"We are recognizing Mario Andres Moreno because he represents the very best qualities of integrity, innovation and leadership that we look for in honoring top class journalists," said Doug Mayorga, International Director of the Minority Chamber of Commerce. "His vision and devotion to collaborating with Latino media and community leaders has contributed to MegaTV's success in establishing themselves as one of the nation's best resources for the Hispanic community."
"I'm honored that my peers in business are rewarding me for doing what I love to do," said Mario Andres Moreno. "I want to thank God, my family, my colleagues, and employees for standing by me and helping me achieve this honor in journalism."
SBS-MegaTV congratulates, Mario Andres Moreno, for his outstanding community service and on air leadership over the years in Hispanic television.
About Spanish Broadcasting System
Spanish Broadcasting System, Inc. (SBS) owns and operates radio stations located in the top U.S. Hispanic markets of New York, Los Angeles, Miami, Chicago, San Francisco and Puerto Rico, airing the Tropical, Regional Mexican, Spanish Adult Contemporary, Top 40 and Urbano format genres. SBS also operates AIRE Radio Networks, a national radio platform of over 250 affiliated stations reaching 94% of the U.S. Hispanic audience. SBS also owns MegaTV, a network television operation with over-the-air, cable and satellite distribution and affiliates throughout the U.S. and Puerto Rico, produces a nationwide roster of live concerts and events, and owns a stable of digital properties, including LaMusica, a mobile app providing Latino-focused audio and video streaming content and HitzMaker, a new-talent destination for aspiring artists. For more information, visit us online at www.spanishbroadcasting.com.
About the U.S Minority Chamber of Commerce (MCC)
The Minority Gala Award Banquet 2018 is a prestigious local award presented annually to an active member, partner or collaborator of the U.S Minority Chamber of Commerce (MCC) who demonstrates excellence, creativity, and initiative in business, public services, civic, compassion and professional; provides valuable service by devoting time and energy to improve the quality of life for others in the community; and assists minority in reaching their full leadership potential.
MEDIA CONTACT SBS:
Vladimir Gomez
VP, Corporate Communications
(786) 394-9000 Ext. 1144