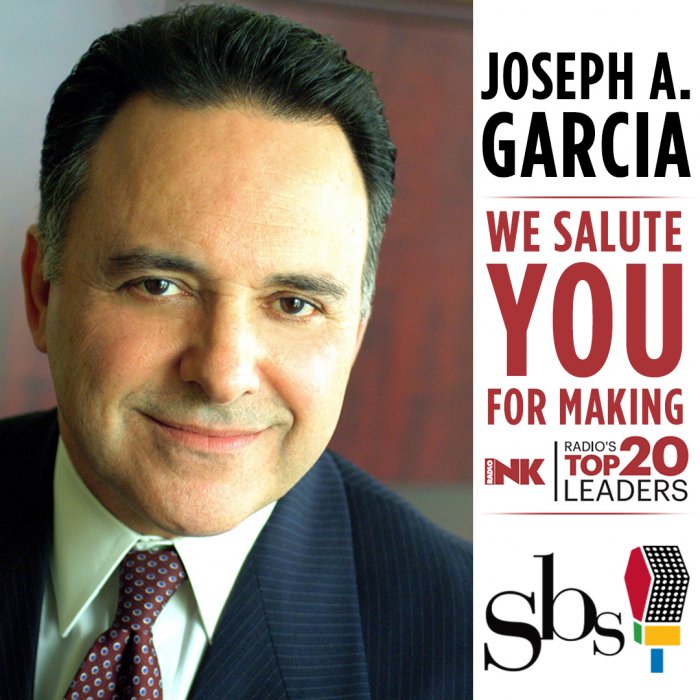 Miami, FL. (May 3, 2017)—Spanish Broadcasting System, Inc. (SBS) (OTCQX: SBSAA), ("SBS"), a leading Hispanic media company, announced today that Director, Senior Executive Vice President, Chief Financial Officer, Chief Administrative Officer and Secretary, Joseph A. Garcia was named to Radio Ink's "The 20 Best Leaders in Radio" list. This award marks the first time Mr. Garcia has been honored by the magazine. This list was chosen by the radio industry. In an extremely exciting and close vote, that included about 50 people when we first started, thousands of votes were cast on our website to help decide the final 20 names that will appear in Radio Ink Magazine newest issue.
Albert Rodriguez COO of SBS commented on the announcement, "Knowing the strong commitments held and executed by Joseph, it's no huge leap of faith to say that he is a terrific selection as one of our industry's best. Not only extremely well-versed on matters related to SBS's operation, Joseph's also in tune with the ever-changing aspects of the overall media and advertising industries. The entire SBS family extends its congratulations!"
"This is a select group of experienced and successful leaders in our industry. My inclusion on this list is because I work with the best team in radio," remarked Joseph A. Garcia.
Radio Ink Publisher Deborah Parenti said, "We are extremely pleased to be able to spotlight leaders like Joseph Garcia in the first annual Leaders List. His is a particularly inspiring story of how strength and courage can overcome even the most difficult of adversities and pave the way to success, not only in a career but as a human being we can all aspire to emulate."
About Spanish Broadcasting System
Spanish Broadcasting System, Inc. is a leading Hispanic media company that owns and operates 17 radio stations located in the top U.S. Hispanic markets of New York, Los Angeles, Miami, Chicago, San Francisco and Puerto Rico, airing the Spanish Tropical, Regional Mexican, Spanish Adult Contemporary, Top 40 and Latin Rhythmic format genres. SBS also operates AIRE Radio Networks, a national radio platform which creates, distributes and markets leading Spanish-language radio programming to over 250 affiliated stations reaching 93% of the U.S. Hispanic audience. SBS also owns MegaTV, a television operation with over-the-air, cable and satellite distribution and affiliates throughout the U.S. and Puerto Rico. SBS also produces live concerts and events and owns multiple bilingual websites, including www.LaMusica.com, an online destination and mobile app providing content related to Latin music, entertainment, news and culture. For more information, visit us online at spanishbroadcasting.com.
About Radio Ink Magazine
Radio Ink Magazine is the radio broadcasting industry's premier management and marketing trade magazine. Radio Ink is published by Boynton Beach, Florida-based Streamline Publishing, Inc. The bi-monthly magazine celebrated its 20-year anniversary in 2012. For more information, visit www.radioink.com.
MEDIA CONTACT FOR SBS:
Vladimir Gomez
VP Corporate Communications & National Promotions
Brad Edwards
Brainerd Communicators, Inc.