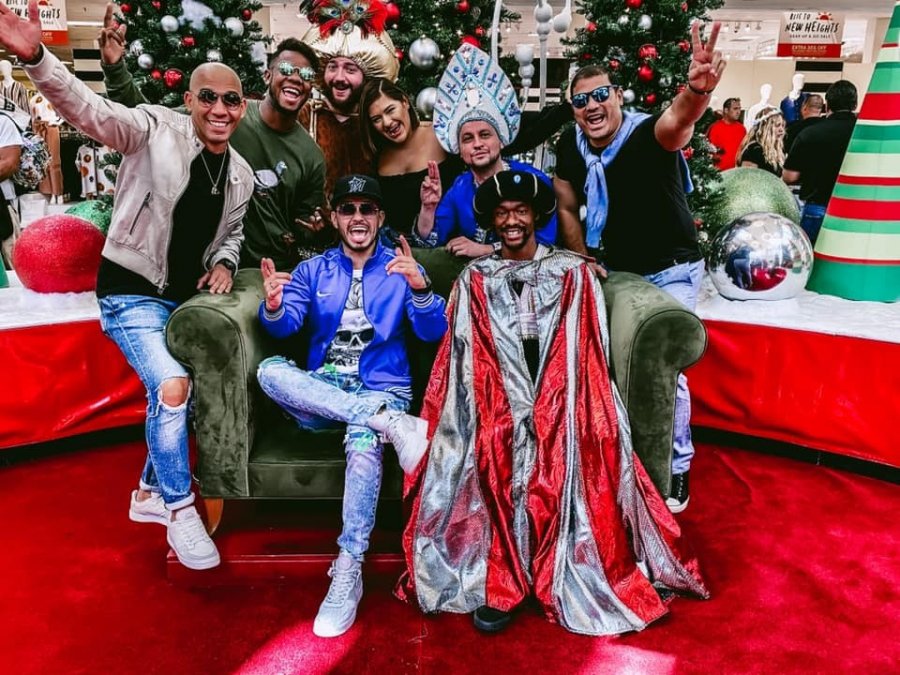 Miami, FL. (January 6th, 2020)—LaMusica App, MegaTV and the leading radio stations owned and operated by Spanish Broadcasting System, Inc. (SBS) in South Florida, Zeta 92.3FM, El Nuevo Zol 106.7FM, Ritmo95.7FM, once again demonstrate their commitment to the Hispanic community by donating more than 6,000 toys to viewers and listeners during the celebration of Three Kings Day on January 5th, 2020 at Westland Mall in Hialeah, Florida from 1pm to 4pm (EST). Each year this event has established itself as a celebration to bring joy to the children of our community.
During the "Three Kings Day Toy Giveaway", emblematic figures of the social, political, entertainment and sports industry were present during the event.
The family of SBS-MegaTV and Primo Cash, the company that helps you finance your business, invited our community to join recognized television and radio personalities at this impactful event for our community. The day was hosted by the main talents of SBS Miami alongside the team of Primo Cash, and will be transmitted January 6th during the usual programming of MegaTV.
"I find nothing more gratifying than seeing a smile on the face of a child receiving a gift on the day of the Three Kings. These are small actions that not only feed the soul, but will make a big difference in this world in the long run. If you can, give yourself the opportunity to carry your year of blessings and happiness," said Yoel Damas, President of Primo Cash.
"Our goal is that no child is left without a toy as we celebrate the arrival of the Three Kings. We want everyone who does not have the resources to participate, especially children that come from less fortunate homes," added Donny Hudson, Vice-President of Sales and SBS Miami General Manager.
The event was held January 5th, from 1 p.m. to 4 p.m. in Westland Mall.
About LaMusica
LaMusica is a music-centric online platform catering to a wide variety of Hispanic users through the live audio and video streaming of the nation's top-rated radio stations owned by Spanish Broadcasting System (SBS), including WSKQ-FM in New York City, the #1 Hispanic station in America, as well as other leading SBS formats from around the country. Offering a daily variety of exclusive digital content including current events video vignettes, celebrity interviews, podcasts, expertly curated playlists and world premiere music videos, LaMusica is the preferred Hispanic streaming platform for today's U.S. Latinos. LaMusica is available via the mobile app, the LaMusica.com website, iOS and Android smartphones and tablets, Apple TV, Roku, Android TV, Firestick/AmazonTV, Samsung SmartTV, Apple CarPlay, as well as Chromecast and Alexa-enabled devices.
About Spanish Broadcasting System, Inc.
Spanish Broadcasting System, Inc. (SBS) owns and operates radio stations located in the top U.S. Hispanic markets of New York, Los Angeles, Miami, Chicago, San Francisco and Puerto Rico, airing the Tropical, Regional Mexican, Spanish Adult Contemporary, Top 40 and Urbano format genres, including the global leader in Hispanic radio, WSKQ-FM in New York City. SBS also operates AIRE Radio Networks, a national radio platform of over 275 affiliated stations reaching 95% of the U.S. Hispanic audience. SBS also owns MegaTV, a network television operation with over-the-air, cable and satellite distribution and affiliates throughout the U.S. and Puerto Rico, produces a nationwide roster of live concerts and events, and owns a stable of digital properties, including La Musica, a mobile app providing Latino-themed audio and video streaming content and HitzMaker, a new-talent destination for aspiring artists. For more information, visit us online at www.spanishbroadcasting.com.
Media Contact SBS:
Vladimir Gomez
VP, Corporate Communications
(786) 394-9000 Ext. 1144