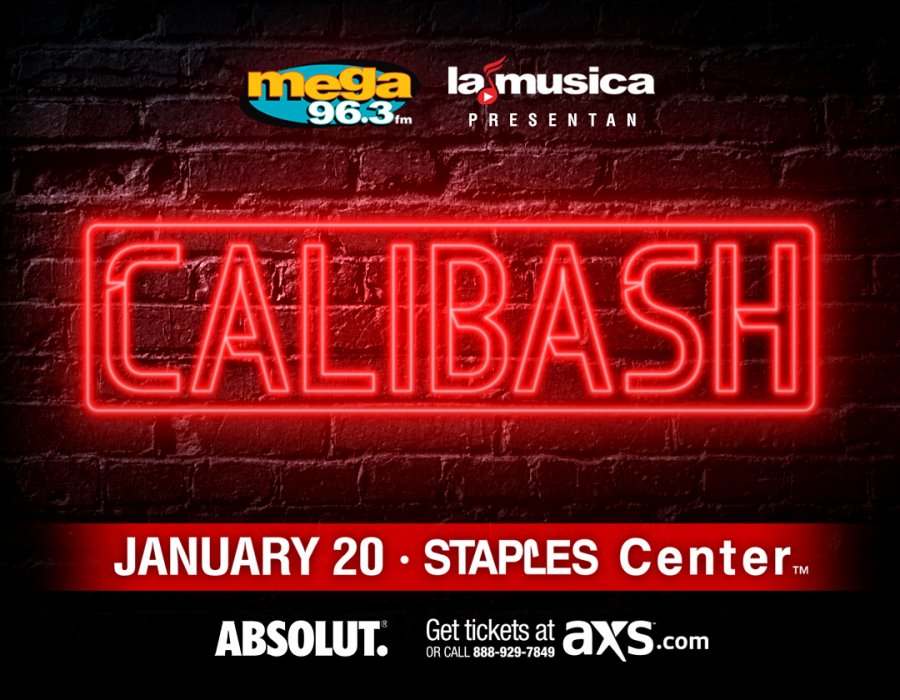 TICKETS FOR CALIBASH 2018 GO ON SALE THIS WEDNESDAY NOVEMBER 22, 2017 WITH PRE-SALES STARTING MONDAY, NOV. 20th, BOTH AT 10:00AM (PST) USING THE CODE: CALIBASH – www.axs.com
Los Angeles, CA. (November 21, 2017)—LaMusica App, Spanish Broadcasting System, Inc. (SBS) (OTCQX: SBSAA) and LA's #1 Party Station, KXOL Mega 96.3FM announced today the return of the 2018 CALIBASH to the Staples Center in Los Angeles, California on Saturday, January 20th, 2018. The eleventh annual mega-concert will celebrate the best in Urban, Hip Hop, Tropical, Pop, and R&B performances by the top artists with unforgettable performances. Tickets goes on sale, Wednesday November 22, 2017 and with presales starting Monday, Nov. 20 at 10:00am (PST) using code: CALIBASH www.axs.com. 
CALIBASH has established itself as LA'S largest Latin concert, with previous performances by Chris Brown, Justin Bieber, Snoop Dogg, Pitbull, Daddy Yankee, Don Omar, Wisin y Yandel, Alexis y Fido and Ivy Queen, among others. This year we expect to continue the tradition of bringing the audience an unforgettable show.
Performers will be announced for CALIBASH 2018 in the upcoming weeks. Make sure to tune in to Mega 96.3FM for more exciting lineup updates. 
"The 2018 CALIBASH is a one-of-a-kind celebration that showcases the wide variety of Latin Urban music we play every day on our top hispanic millennial station in Los Angeles Mega 96.3FM," said Alessandra Alarcón SBS West Coast. "In Eleven years, the festival has exceeded even our own expectations. We're thrilled to be returning to the Staples Center for the 2018 CALIBASH. It promises to be a can't-miss night."
CALIBASH is part of SBS, LaMusica Presents incredibly successful roster of major concert events, which includes CALIBASH, the biggest concert event in radio history, which features more than 20 A-list artists across every music genre on one stage; which generated 115 Million social media impressions.
Beginning Monday, November 20th, Mega 96.3FM will launch a promotion to give millions of Latin-Urban music fans across the country the opportunity to experience the 2018 CALIBASH. The promotion will run on Mega 96.3FM Spanish-language stations as well as on LaMusica APP. 
Tickets go on sale to the general public on Wednesday, November 22 at 10 a.m. PST. For more information, visit https://mega963fm.lamusica.comhttps://www.axs.com/events/346527/calibash-tickets.
# # # 
Media & Press Contact SBS: 
Vladimir Gomez, vgomez@sbscorporate.com, (786) 470-1644.