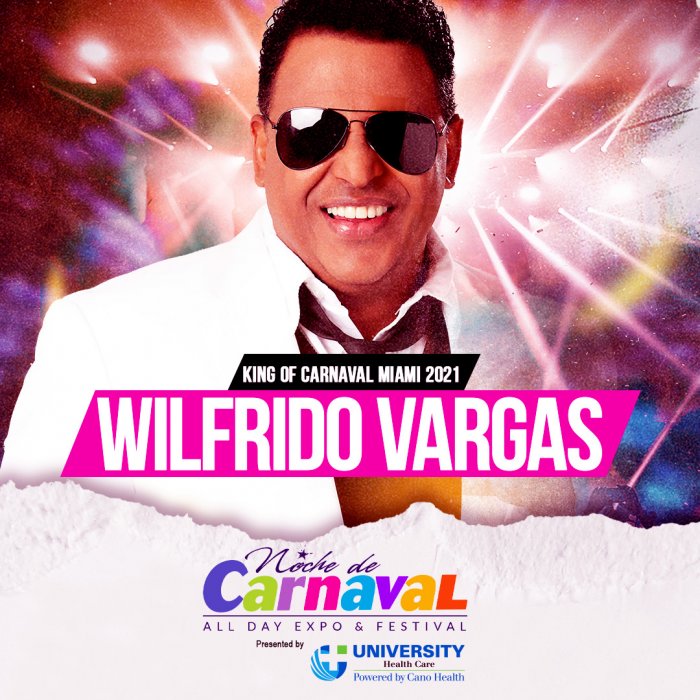 'NOCHE DE CARNAVAL' MUSIC FESTIVAL WILL SHOWCASE OVER 30 LATIN MUSIC STARS FROM MORE THAN 20 NATIONALITIES, PAYING TRIBUTE TO THE LEGENDS OF 'CARNAVAL MIAMI'
Miami, FL. (July 29TH, 2021)— Spanish Broadcasting System, Inc. (the "Company" or "SBS") (OTC: SBSAA), the nation's largest Hispanic-owned and targeted media and entertainment entity, and The Kiwanis Club of Little Havana announced that, composer, conductor, trumpeter, lyricist, and businessman, Wilfrido Vargas is one of the greatest legends of Latin music and the undisputed king of merengue. Generations have enjoyed his music that continues to be wildly popular today and a mainstay of every Latin party and music festival.
Because of his contributions and achievements, his talent and perseverance, and his daring style and universal appeal, Wilfrido Vargas is the perfect choice to be named King of Carnaval Miami 2021 by the Kiwanis of Little Havana.
Noche de Carnaval Miami, presented by University Health Care powered by Cano Health, is a family-friendly all day music festival that will highlight Latin food, artisanal crafts, cultural exhibitions, and music from all of the Latin communities in South Florida.
"For the Kiwanis Club of Little Havana and our media partners Spanish Broadcasting System and VIVA LIVE TV, it's an honor to recognize the 50-year career of the legendary king of merengue," said Rick Gonzalez, Noche de Carnaval Miami chairperson and Kiwanis Club member.
"Music is the thread that can unite generations," said Donny Hudson, EVP of Local media for radio/TV & digital for all SBS markets, General Manager. "It brings me great joy to join The Kiwanis Club of Little Havana in an event like 'Noche de Carnaval' and other related events that connects people to share happiness and music while honoring legends and celebrating our diverse culture".
This epic event at the Miami-Dade Fair and Expo Center will bring together the Latin community in South Florida to celebrate Latin style with more than 30 Latin music legends and rising stars sharing the stage and culminating with an electrifying performance by the newly crowned King of Carnaval Miami, Wilfrido Vargas. This family-friendly all-day festival will also showcase folkloric dances, special presentations, foods, and crafts representing Latin American and Caribbean countries.
Wilfrido Vargas's musical style is popular in his native country and around the world. And he has garnered a lifetime of impressive achievements and awards, including:
— Helped develop Latin music stars, such as Fernando Villalona, Las Chicas del Can, Eddy Herrera, among others
— Won several gold and platinum records
— Awarded recognition of Musical Excellence by the Latin Grammys
— Performed with Fania All-Star at the 1979 Havana Jam Festival
— Received the Orquídea de Oro (Golden Orchid) in Venezuela in 1981
— Won the Gaviota de Plata (Silver Seagull) as a guest star at the Viña del Mar Festival in 1992
— Decorated by the Dominican president Joaquín Balaguer with the Heraldic Order of Christopher Columbus in the rank of Knight in 1994
— Elected as Grand Marshal in the famous carnival from Barranquilla; he won the Congo de Oro award three times.
"Receiving this recognition as King of 'Carnaval Miami' from one of the most important Latin music festivals in the United States is very special not only for me but also for merengue and my beloved Dominican Republic. I appreciate this opportunity to get together to celebrate life and my 50-year musical career with my fellow Dominicans!" declared Wilfrido Vargas, creator of popular songs such as El Africano, El Loco y la Luna, Volveré, El Baile del Perrito, Comején, and El Jardinero.
WHEN: Saturday, August 28 from 2:00 pm to 11:00 pm
WHERE: Miami-Dade County Fair & Exposition, 10901 SW 24th St, Miami, FL 33165
HOW: Purchase tickets now at www.carnavalmiami.com
For more information regarding Carnaval Miami and upcoming events, visit www.carnavalmiami.com. Give us a "Like" on Facebook and follow us on Instagram at @carnavalmiami. Also, follow us on Twitter @Carnaval_Miami, to stay informed of all Carnaval Miami events.
ABOUT SPANISH BROADCASTING SYSTEM, INC.
Spanish Broadcasting System, Inc. is a leading Hispanic media company that owns and operates radio stations located in the top U.S. Hispanic markets of New York, Los Angeles, Miami, Chicago, San Francisco, and Puerto Rico, airing the Spanish Tropical, Regional Mexican, Spanish Adult Contemporary, Top 40, and Latin Rhythmic format genres. SBS also operates AIRE Radio Networks, a national radio platform which creates, distributes and markets leading Spanish-language content to over 300+ affiliated stations reaching 95% of the U.S. Hispanic audience and MegaTV, a network television operation with over-the-air, cable and satellite distribution and affiliates throughout the U.S. and Puerto Rico. In addition, SBS produces live concerts and events and publishes multiple bilingual websites, including LaMusica, an online destination and mobile app providing streaming content related to Latin music, entertainment, news, and culture for today's U.S. Hispanic consumer. For more information, visit us online at www.spanishbroadcasting.com.
ABOUT CARNAVAL MIAMI
Carnaval Miami—Since 1978, Carnaval Miami (www.carnavalmiami.com) has been the annual marquis fundraiser of the Kiwanis Club of Little Havana in support of the Kiwanis Little Havana Foundation's youth development programs. These programs range from initiatives that promote wellness and teamwork to scholarships for undergraduate education each year. Host to a series of captivating musical, culinary, and recreational events each year, the iconic Carnaval Miami reflects the Magic City's unique, vibrant character and diverse culture shaped by Hispanics of all nations. Since its inception, Carnaval Miami has grown into the largest Latin cultural celebration in the world, culminating each year with the world-famous Calle Ocho Music Festival.
The Kiwanis of Little Havana is an affiliate of Kiwanis International, a worldwide non-profit organization of volunteers dedicated to serving children in their communities. Founded in 1975, the Little Havana Chapter is known for using advanced fundraising initiatives, such as Carnaval Miami. Through the Kiwanis Little Havana Foundation, the club impacts thousands of families annually, with youth development programs including holiday giving, scholarships, youth summer camps, back to school, and more. For more information, visit www.kiwanislittlehavanafoundation.org and www.carnavalmiami.com.
SBS Contacts:
Vladimir Gomez
VP Corporate Communications
(786) 470-1644
CARNAVAL MIAMI Contact:
Mayte Vizcaino
Sponsor Relations
Manager Office: 305-644-8888, ext. 3
Mobile: 305-562-7901
mjacome@kiwanislittlehavana.org
Artist / Production Contact
Miami Talents Group
Hugo Oscar Chavez
Mobile: 786-444-9258
Media Contact SBS External Agency:
Marlene Maseda
Fusion 4 Media