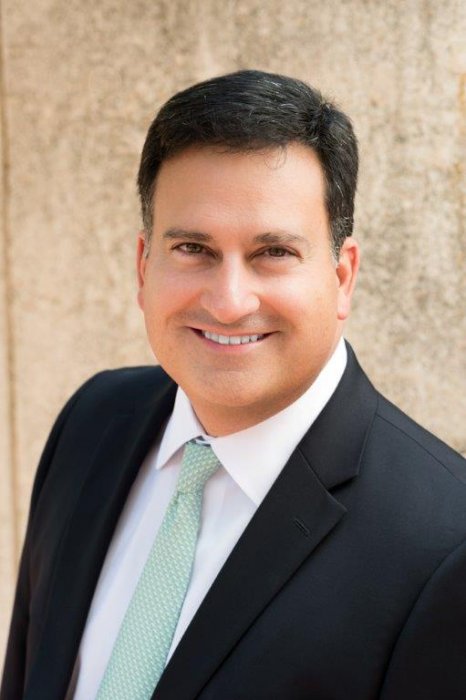 Miami, FL. (Dec. 20, 2016)—Spanish Broadcasting System, Inc. (SBS) (NASDAQ: SBSA), the largest publicly-traded Hispanic-controlled media and entertainment company in the United States, today named Richard D. Lara as the Company's Executive Vice President and General Counsel.
In his new role, Lara is responsible for all legal matters at SBS, including developing and implementing the Company's legal strategy. He will report directly to Raúl Alarcón, Chairman, CEO and President of SBS.
"Richard is a premier legal executive and will play a critical role on our leadership team and within the organization," said Mr. Alarcón. "His expertise and leadership will benefit SBS given his deep industry experience and legal knowledge. We look forward to Richard's many contributions as we continue executing our multi-platform strategy and positioning SBS for growth over the long-term."
"I am grateful and excited to join an organization that is dedicated to delivering leading news, entertainment and information to diverse audiences through multiple platforms across the nation," said Mr. Lara. "I look forward to working with the entire team at SBS to build upon the company's history of success by developing strategic growth opportunities that will drive our business."
As General Counsel, Lara will oversee the Legal and Corporate Affairs Department, which will include: Legal and Business Affairs, Corporate Compliance, Government Relations, Corporate Social Responsibility, Community Empowerment, Standards and Practices, Advertising Review and Compliance and Corporate-PLA Services.
Mr. Lara's trial and arbitration experience is broad and substantial. For over two decades, he has counseled domestic and international corporate clients regarding business disputes, including serving as lead litigator in high-stakes trials both in the federal and state courts. His expertise also includes handling disputes brought under Florida's Deceptive and Unfair Trade Practices Act, the Fair Labor Standards Act, Title VII, the Jones Act, and Florida's Whistleblower Act.
Prior to serving as Executive Vice President and General Counsel for SBS, Lara practiced law at Mase Lara, P.A., a boutique trial law firm based in Miami, where he concentrated primarily on complex civil and commercial litigation. Richard was co-owner and managing shareholder at Mase Lara. He frequently appeared on televised news programs to provide legal commentary.
In addition, Mr. Lara is an active member of various community organizations, including serving as current Commissioner of the Judicial Nominating Commission for Florida's Third District Court of Appeal (appointed by Florida Governor Rick Scott), member of the American Inns of Court, the Cuban American Bar Association, the Florida Bar's Professionalism Committee, Ethics Committee, and Consumer Protection Law Committee, "Man of the Year" for the Leukemia & Lymphoma Society, and former Chair of the 11th Judicial Circuit Grievance Committee for the Florida Bar.
Mr. Lara received his law degree from Boston College Law School and was awarded his undergraduate degree from the University of Michigan. Mr. Lara is fluent in Spanish.
About Spanish Broadcasting System, Inc.
Spanish Broadcasting System, Inc. owns and operates 17 radio stations located in the top U.S. Hispanic markets of New York, Los Angeles, Miami, Chicago, San Francisco and Puerto Rico, airing the Spanish Tropical, Regional Mexican, Spanish Adult Contemporary, Top 40 and Latin Rhythmic format genres. SBS also operates AIRE Radio Networks, a national radio platform which creates, distributes and markets leading Spanish-language radio programming to over 100 affiliated stations reaching 93% of the U.S. Hispanic audience. SBS also owns MegaTV, a television operation with over-the-air, cable and satellite distribution and affiliates throughout the U.S. and Puerto Rico. SBS also produces live concerts and events and owns multiple bilingual websites, including www.LaMusica.com, an online destination and mobile app providing content related to Latin music, entertainment, news and culture. For more information, visit us online at spanishbroadcasting.com.
This press release contains certain forward-looking statements. These forward-looking statements, which are included in accordance with the safe harbor provisions of the Private Securities Litigation Reform Act of 1995, may involve known and unknown risks, uncertainties and other factors that may cause the Company's actual results and performance in future periods to be materially different from any future results or performance suggested by the forward-looking statements in this press release. Although the Company believes the expectations reflected in such forward-looking statements are based upon reasonable assumptions, it can give no assurance that actual results will not differ materially from these expectations. Forward-looking statements, which are based upon certain assumptions and describe future plans, strategies and expectations of the Company, are generally identifiable by use of the words "may," "will," "expect," "believe," "anticipate," "intend," "could," "estimate," "might," or "continue" or the negative or other variations thereof or comparable terminology. Factors that could cause actual results, events and developments to differ are included from time to time in the Company's public reports filed with the Securities and Exchange Commission. All forward-looking statements made herein are qualified by these cautionary statements and there can be no assurance that the actual results, events or developments referenced herein will occur or be realized. The Company undertakes no obligation to update or revise forward-looking statements to reflect changed assumptions, the occurrence of unanticipated events or changes to future operating results.
Media & Press Contact for SBS:
Vladimir Gomez
Director of Communications & National Promotions