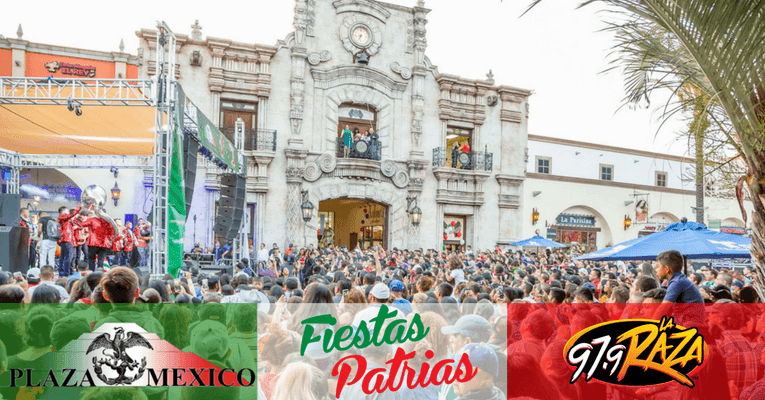 SBS'S LOS ANGELES (97.9FM LA RAZA & MEGA 96.3FM), SAN FRANCISCO (93.3FM LA RAZA) AND CHICAGO (LA LEY 107.9FM) STATIONS AIM TO KEEP CULTURE TIES ALIVE FOR HISPANICS IN THE UNITED STATES
Los Angeles, CA. (September 14, 2018)—Spanish BroadcastingSystem, Inc., (SBS) (OTCQB: SBSAA) is celebrating Fiestas Patrias by participating in a series of events to be held surrounding the independence of Mexico and various Latin American countries, including Belize, Brazil, Costa Rica, Nicaragua, Honduras, El Salvador, Guatemala and Chile that takes place in September. SBS's stations in Los Angeles, Chicago and the Bay Area, are joining local community organizations to commemorate and pay tribute to the Latin American culture. Events will feature live music, parades, traditional food, special appearances by SBS's personalities and lots of fun for the whole family.
They include:
• LOS ANGELES- SEPTEMBER 15
Location: Plaza Mexico at Lynwood, Los Angeles, CA.
• SBS's 97.9FM La Raza celebrates its traditional Fiestas Patrias event with a day celebration featuring entertainment for the whole family. The event will include special appearances by La Raza's radio personalities Adal Loreto, "Chikilin", La Cabina Activada and El Carnalillo. Viva Mexico with 97.9FM La Raza.
• LOS ANGELES- SEPTEMBER 15- 16
Location: Downtown Santa Ana at City of Santa Ana.
• SBS's Mega 96.3FM celebrates its traditional Fiestas Patrias event with a two-day celebration featuring entertainment for the whole family. The event will include special appearances by Mega's radio personalities. Also artist like Adriel Favela, Banda Los Escamilla de Jerez Zacatecas and Sonora Tropicana will be present for an unforgettable performance.
• BAY AREA- SAN FRANCISCO- SAN JOSE, SEPTEMBER 16
Location: Courthouse Square, Redwood City
• 93.3FM La Raza welcomes the Bay Area's Hispanic community for an annual Fiesta Patrias cultural celebration. Fiestas Patrias will feature special performances by Los Mismos, Mariachi Mexicanisimo and dance groups Mexico Vivo and Danza Colibri. Courthouse Square will be transformed into a festive, beautiful, and fun setting in celebration of this important patriotic holiday in many Latin countries and Mexican Independence.
CHICAGO—SEPTEMBER 15-16
Location: RiverEdge Park, City of Aurora
• Located in the heart of Aurora, the free event will feature live music, Mexican traditional cuisine and family activities, including the participation of international artists Los Polo Urías and his Maquinaria Norteña, Grupo Dos Banderas, Christian Zepeda and his Alta Fuerza, Los Dragones de la Cumbia, Mariachi Aztlán and Danza de Viejitos & Chínelos and the best of local groups. La Ley 107.9FM radio personalities will be present sharing these special moments with our Chicago listeners.
"Spanish Broadcasting System is proud to celebrate the rich and important history of Fiestas Patrias with our Hispanic communities", says Juan Carlos Hidalgo, VP of Programming West Coast Division. "These family-friendly events offer so many opportunities to connect with the culture of this dynamic audience".
Don't miss the "Fiestas Patrias" celebration in your community. Spanish Broadcasting System, always present in our community events.
About Spanish Broadcasting System, Inc.
Spanish Broadcasting System, Inc. is a leading Hispanic media company that owns and operates 17 radio stations located in the top U.S. Hispanic markets of New York, Los Angeles, Miami, Chicago, San Francisco and Puerto Rico, airing the Spanish Tropical, Regional Mexican, Spanish Adult Contemporary, Top 40 and Latin Rhythmic format genres. SBS also operates AIRE Radio Networks, a national radio platform which creates, distributes and markets leading Spanish-language radio programming to over 235 affiliated stations reaching 94% of the U.S. Hispanic audience. SBS also owns MegaTV, a television operation with over-the-air, cable and satellite distribution and affiliates throughout the U.S. and Puerto Rico. SBS also produces live concerts and events and owns multiple bilingual websites, including www.LaMusica.com, an online destination and mobile app providing content related to Latin music, entertainment, news and culture. For more information, visit us online at www.spanishbroadcasting.com.
Media Contact SBS
Vladimir Gomez
VP, Corporate Communications
(786) 470-1644