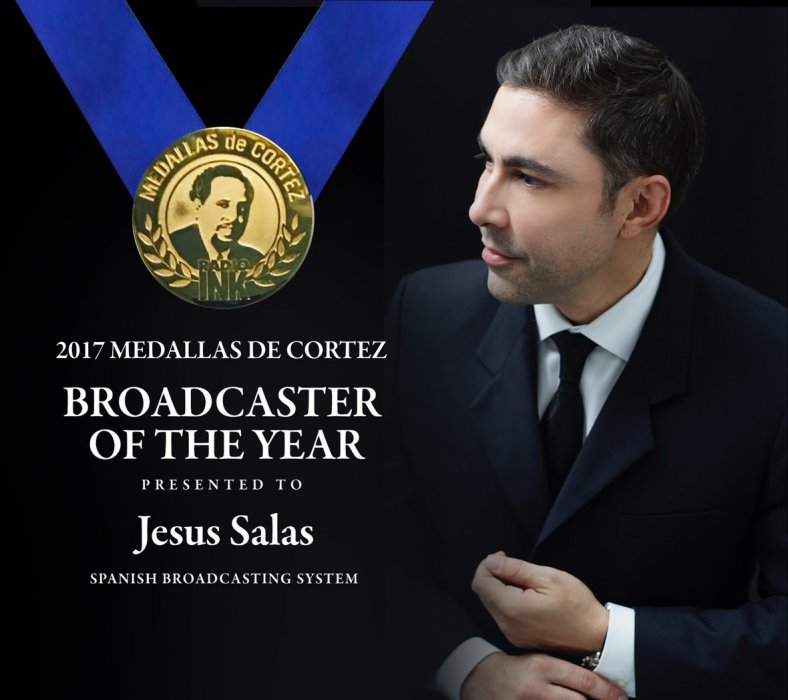 JESUS

SALAS

WINS "BROADCASTER OF THE YEAR AWARD"; WRMA-FM RITMO 95.7FM (CUBATON Y MAS) MIAMI- FT. LAUDERDALE TAKES "STATION OF THE YEAR" ACCOLADE
SBS EXECUTIVES ALBERT RODRIGUEZ,

JESUS

SALAS

, ERIC GARCIA, JOHNNY CARIDE PARTICIPATED AS PANELISTS & SPEAKERS AT THE RADIO INK HISPANIC RADIO CONFERENCE
Miami, FL. (April 17, 2017)—Spanish Broadcasting System, Inc. (SBS) (OTCQX: SBSAA), ("SBS"), a leading Hispanic media company, today announced that it was honored at the Hispanic Radio Awards hosted by Radio Ink in diverse categories for excellence and leadership in the radio industry at the 2017 Medallas de Cortez Awards. SBS's Jesus Salas, Executive Vice President of Programming and Multi-platform Coordinator was honored with the "Broadcaster of the Year" award and WRMA-FM Ritmo 95.7FM (Cubaton y Mas) received the "Station of the Year" accolade.
Overall, SBS Radio platforms were represented with 13 nominations across the event's 8 categories, which recognize outstanding achievements and leadership in the Hispanic radio marketplace. This year's number of nominations marks the most in SBS' storied history.
Key members of SBS were present among the prestigious group of speakers and panelists speaking at the event including Albert Rodriguez, EVP/COO of SBS- Hispanic Radio Executive Leadership Roundtable Sponsored by: SBS, Jesus Salas EVP/Programming SBS- Behind the Radio Mic: Live and Local or Syndicated. Johnny Caride, Program Supervisor SBS Miami & Programming Director WXDJ Miami- Playing the Ratings Game to Win: Issues and Opportunities. Eric Garcia, SBS Radio Revenue Chief & VP/General Manager, WSKQ & WPAT, New York- Old School/New School: Bridging the Gap between Gen X Managers and Millennial Sellers.
"SBS has a long history of providing the best content to our listeners and, with stations in the top 50 fastest growing U.S. Hispanic markets, we are well positioned to continue to entertain and inform Hispanic audiences for years to come," said Albert Rodriguez, COO of SBS. "We are thrilled to be honored among this prestigious group of Spanish-language broadcasters. Congratulations to the entire SBS Radio Division, as well as all of our stations and employees who were nominated this year. We are proud of all of their hard work, dedication and service to our local communities."
"Being awarded two Medallas de Cortez is a testament to the dedication of our SBS team who delivers the best in the market each day. Our team continues to produce quality radio and I am proud of their untiring commitment to keeping our community informed and entertained," said Jesus Salas Executive Vice President, Multi-Platform Coordinator of SBS. "We were pleased with receiving a record number of nominations, and now we are truly honored by receiving two plaques, including the prestigious "Broadcaster of the Year" and "Station of the Year" award. Special thank you to Radio Ink Magazine."
"On behalf of our SBS Radio family, I am proud to congratulate Jesus Salas, and the entire Ritmo 95.7FM family, in Miami, Florida for the dedication and involvement in our industry, and community," said Eric Garcia Revenue Chief & SBS New York General Manager. "Our voice, commitment and charisma have been an integral part of our efforts to serve the passion points of U.S. Hispanics across all of our markets."
The Medallas de Cortez Awards, created by Radio Ink, is the only awards dedicated to celebrating the very best in Hispanic radio and honors industry leaders in station management, sales, programming, and advertising. They were named after Raoul Cortez, a pioneer in the Hispanic radio industry.
About Spanish Broadcasting System
Spanish Broadcasting System, Inc. is a leading Hispanic media company that owns and operates 17 radio stations located in the top U.S. Hispanic markets of New York, Los Angeles, Miami, Chicago, San Francisco and Puerto Rico, airing the Spanish Tropical, Regional Mexican, Spanish Adult Contemporary, Top 40 and Latin Rhythmic format genres. SBS also operates AIRE Radio Networks, a national radio platform which creates, distributes and markets leading Spanish-language radio programming to over 250 affiliated stations reaching 93% of the U.S. Hispanic audience. SBS also owns MegaTV, a television operation with over-the-air, cable and satellite distribution and affiliates throughout the U.S. and Puerto Rico. SBS also produces live concerts and events and owns multiple bilingual websites, including www.LaMusica.com, an online destination and mobile app providing content related to Latin music, entertainment, news and culture. For more information, visit us online at spanishbroadcasting.com.
About Radio Ink Magazine
Radio Ink Magazine is the radio broadcasting industry's premier management and marketing trade magazine. Radio Ink is published by Boynton Beach, Florida-based Streamline Publishing, Inc. The bi-monthly magazine celebrated its 20-year anniversary in 2012. For more information, visit www.radioink.com.
MEDIA CONTACT FOR SBS:
Vladimir Gomez
Communications & National Promotions Director
MEDIA CONTACT FOR RADIO INK HISPANIC CONFERENCE:
Deborah Parenti
Publisher
Radio Ink/RBR/TVBR/Radio Discussions