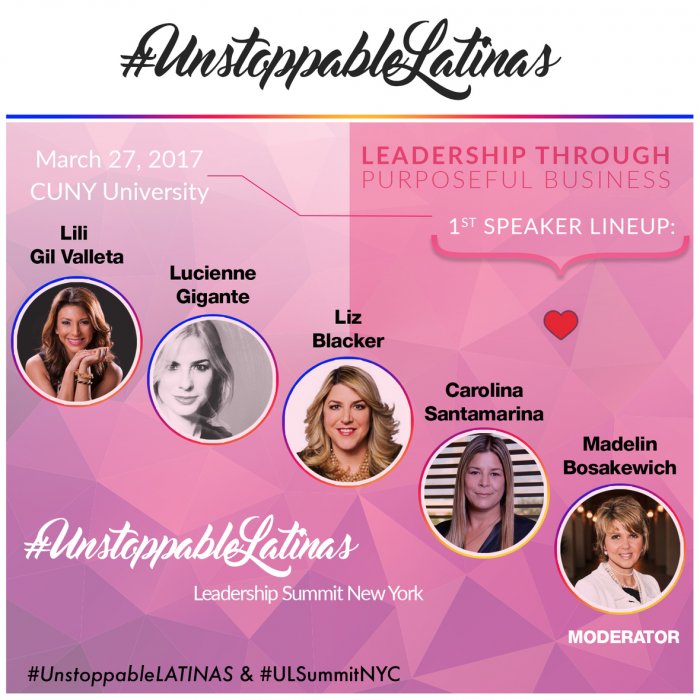 SANTAMARINA WILL BE PARTICIPATING AT THE "LEADERSHIP THROUGH PURPOSEFUL BUSINESS" PANEL, AN EXCHANGE OF LEADERSHIP PERSPECTIVES AND HOW THEY IMPACT THEIR ORGANIZATIONS AND CLIENTS
Miami, FL. (February 15, 2017)—Spanish Broadcasting System, Inc. (SBS) (OTCQX: SBSAA), Executive Carolina Santamarina, Vice-President of Sales & General Manager of SBS Miami will be a speaker at the #UnstoppableLATINAS Leadership Summit in New York. Carolina will speak on the subject of "Leadership through Purposeful Business Panel". The Summit will take place on March 27, 2017 at CUNY University in New York.
Santamarina will take the stage at the Summit to discuss the inspiration that makes for successful business enterprises through her own personal experiences as well as lessons she's learned throughout years of working alongside some of the world's most successful people.
"Looking forward to the #UnstoppableLATINAS Leadership Summit as they continue to offer the Latina community an event to hear the latest in virtual trends, connect with sponsors, collaborate with like-minded bloggers and creators and advance their skill-sets through professionally-led industry sessions," said Carolina Santamarina Vice-President of Sales & General Manager of SBS Miami. "What sets #UnstoppableLATINAS Summit apart, however, is the in-culture appeal and homegrown atmosphere that resonates with its core mission: "to unite women and give power to each other."
Carolina Santamarina is the General Manager and Vice President of Sales for Spanish Broadcast System, SBS Miami's three station cluster (the largest publicly traded Hispanic-controlled media and entertainment Company in the United States). Carolina has been instrumental in the success of MiamiBash, one of the most recognizable Latin urban concerts in South Florida, and Beach House which has also become a brand synonymous with millennial Hispanics. She works with her team in creating unique experiences for the audiences and brands. Grand Slam Party Latino, produced by SBS Entertainment, was not only historical as the first ever concert in Marlins Park, but also broke records in sponsorship sales that were spearheaded by Santamarina's team.
In 2013, Radio Ink named Carolina Santamarina as one of "The Best Manager's In America". She has an innovative vision and passion for integrated sales creating executions, which positively impacts nontraditional revenue that resulting in increased ratings.
Make sure to Save the Date for a stimulating and impactful dialogue at #UnstoppableLATINAS Leadership Summit starting at 9:00am on
March 27, 2017 from CUNY University.
Please REGISTER as space is limited:
www.eventbrite.com
About Spanish Broadcasting System
Spanish Broadcasting System, Inc. is a leading Hispanic media company that owns and operates 17 radio stations located in the top U.S. Hispanic markets of New York, Los Angeles, Miami, Chicago, San Francisco and Puerto Rico, airing the Spanish Tropical, Regional Mexican, Spanish Adult Contemporary, Top 40 and Latin Rhythmic format genres. SBS also operates AIRE Radio Networks, a national radio platform which creates, distributes and markets leading Spanish-language radio programming to over 100 affiliated stations reaching 93% of the U.S. Hispanic audience. SBS also owns MegaTV, a television operation with over-the-air, cable and satellite distribution and affiliates throughout the U.S. and Puerto Rico. SBS also produces live concerts and events and owns multiple bilingual websites, including www.LaMusica.com, an online destination and mobile app providing content related to Latin music, entertainment, news and culture. For more information, visit us online at spanishbroadcasting.com.
FOR MEDIA INQUIRIES, PLEASE CONTACT:
Vladimir Gomez
Director of Communications & National Promotions