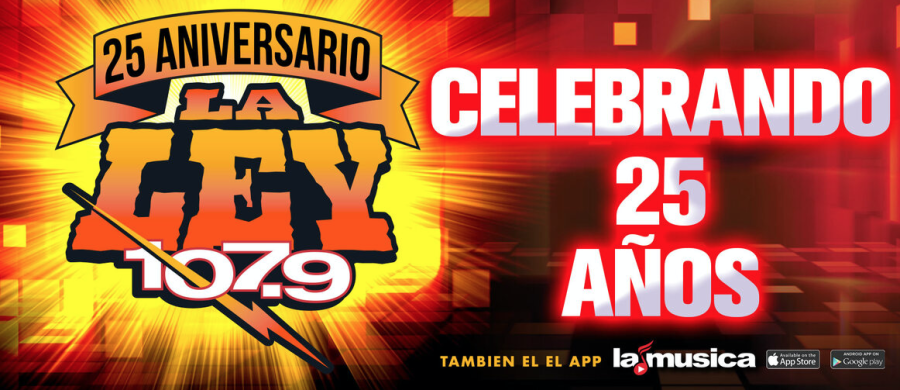 (Miami, FL. July 6, 2022)— Spanish Broadcasting System's "La Ley" 107.9 FM Chicago Celebrates its 25th Anniversary, on air. This is a true anomaly by today's standards that a successful station would remain in its current Regional Mexican format for a quarter of a century.
WLEY works closely in supporting organizations like The Greater Chicago Food Depository (nation's 3rd Largest food bank) to help end hunger in our city , with The Better Business Bureau to help educate consumers on how to avoid marketplace scams and with Pilsen neighbors community council on initiatives to help develop future leaders. Throughout the years WLEY has worked with numerous organizations and touched the life of millions by helping educate, empower and improve quality of life of people in our community.
"We are grateful to our founder, Raul Alarcon Jr, our President/COO, Albert Rodriguez, our Program Director, Juan Carlos Hidalgo, and our current and past teams that brought the vision of this great station to life and for the thousands of listeners and customers that have supported our efforts for over a quarter of a century," said WLEY'S SVP & General Manager, Carlos San Jose.
Our top shows feature Alberto Cortez, known to his fans as "El Terrible " in morning drive and Oswaldo Dias' show, "Erazno y La Chokolata" in PM drive and early evening. Both are two of the most listened-to radio personalities on Spanish-language radio in Chicago and throughout the country. Since we are committed to Chicago's Hispanic community, these popular syndicated shows feature local integration with Johnny Orta "El Perrito" in the mornings and Lili Mendosa and Marco Vargas in the afternoon and early evening hours. In addition, you can listen to our Midday personality, Diane Fong "La Patrona" from 10AM-3PM.
WLEY's On-air 25th Anniversary Special will air commercial-free on Sunday July 10th from 6-8PM. As the official station of the largest Hispanic festival in the Midwest, Fiesta Del Sol, you can also celebrate WLEY's 25th Anniversary in-person with us July 28th-July 31, where you will get a chance to meet our on-air team and win numerous prices.
With over 1 million attendees expected, Fiesta Del Sol who is celebrating its 50th anniversary, is the largest Hispanic Festival in the Midwest and one of the largest festivals in the country.