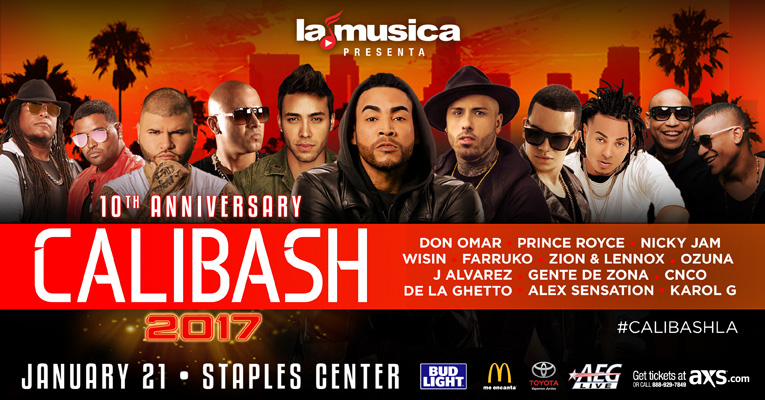 THE LEADING LATIN URBAN MUSIC CONCERT IN THE WORLD FEATURES PERFORMANCES BY DON OMAR, PRINCE ROYCE, NICKY JAM, WISIN, FARRUKO, ZION & LENNOX, OZUNA, J ALVAREZ, GENTE DE ZONA, CNCO, DE LA GHETTO, ALEX SENSATION AND KAROL G.
ONLY A FEW LIMITED-VIEW TICKETS REMAIN FOR CALIBASH 2017, AVAILABLE HERE.
CALIBASH PRE-FESTIVAL, THE FREE FAMILY OUTDOOR EVENT PRIOR TO THE SPECIAL 10TH EDITION OF CALIBASH RETURNS BIGGER AND BETTER THAN EVER IN A NEW LOCATION WITH LIVE MUSIC, GAMES AND LOTS OF FUN ACTIVITIES
Los Angeles, CA. (January 17, 2017)—Spanish Broadcasting System, Inc. (SBS) (NASDAQ: SBSA), the favorite station of millennial Latinos in Los Angeles, Mega 96.3FM announced that tickets for the special 10th anniversary edition of CALIBASH are quickly selling out. The concert features performances by Don Omar, Prince Royce, Nicky Jam, Wisin, Farruko, Zion & Lennox, Ozuna, J Alvarez, Gente de Zona, CNCO, De La Ghetto, Alex Sensation, and Karol G. Line-up subject to change. CALIBASH 2017 presented by LaMusica and Mega 96.3FM and; produced in association with AEG Live, will take place on Saturday, Jan. 21, 2017 at STAPLES Center in Los Angeles, California. Only a few limited-view tickets are available for purchase online.
This year, the fun, free family event CALIBASH Pre-Festival returns bigger and better than previous years to a new location closer to STAPLES Center doors. Due to its popularity, the event has moved to PETREE HALL at the Los Angeles Convention Center, just steps away from the entrance of STAPLES Center. The event takes place prior to CALIBASH 2017 from 3:00 p.m. to 7:00 p.m. (PST) and it features music performances, product sampling, games and more fun activities.
The stage will feature performances by Karol G., Karlos Rose, Kevin Roldan, Sebastian Yatra, Thomas The Latin Boy, Natti Natasha and ATL Garza. Mega 96.3FM will broadcast live from the event, offering many surprises including the last chance to win tickets to the sold out CALIBASH 2017. The free afternoon event is open for guests of all ages.
"The SBS Los Angeles family and especially Mega 96.3FM are very proud of co-presenting our signature event of the year. CALIBASH celebrates 10 years of bringing the millennial youth of Los Angeles performances from the artists they love. Expanding the celebration to the CALIBASH Pre-Fest, a free event for the whole family, is our way to say thanks to the community for making Mega 96.3FM the preferred radio station of the Los Angeles youth," said Chris Carrillo, Vice President and General Manager, SBS Los Angeles.
Attendees of the CALIBASH Pre-Festival are encouraged to use METRO for transportation. Several parking lots are also available for a fee. Only a few limited-view tickets are available for purchase online.
Join the conversation on social media using #CalibashLA. Follow CALIBASH 2017 online and on social media for up to the minute announcements about this year's concert, artist line-up and other exclusive news and fan opportunities:
AEG Live Latino
Instagram http://instagram.com/aeglivelatino
Facebook http://facebook.com/aeglivelatino
Twitter http://twitter.com/aeglivelatino
Mega96.3FM
Facebook: www.facebook.com/la963fm
Instagram: www.instagram.com/mega963fm
Twitter: https://twitter.com/mega963fm
About Spanish Broadcasting System
Spanish Broadcasting System, Inc. is a leading Hispanic media company that owns and operates 17 radio stations located in the top U.S. Hispanic markets of New York, Los Angeles, Miami, Chicago, San Francisco and Puerto Rico, airing the Spanish Tropical, Regional Mexican, Spanish Adult Contemporary, Top 40 and Latin Rhythmic format genres. SBS also operates AIRE Radio Networks, a national radio platform which creates, distributes and markets leading Spanish-language radio programming to over 100 affiliated stations reaching 93% of the U.S. Hispanic audience. SBS also owns MegaTV, a television operation with over-the-air, cable and satellite distribution and affiliates throughout the U.S. and Puerto Rico. SBS also produces live concerts and events and owns multiple bilingual websites, including www.LaMusica.com, an online destination and mobile app providing content related to Latin music, entertainment, news and culture. For more information, visit us online at spanishbroadcasting.com.
About AEG Live
AEG Live, the live-entertainment division of Los Angeles-based AEG, is dedicated to all aspects of live contemporary music performance. AEG Live is comprised of touring, festival, broadcast, merchandise and special event divisions, fifteen regional offices and owns, operates or exclusively books thirty-five state-of-the-art venues. The current and recent concert tour roster includes artists such as Alicia Keys, American Idols, Bon Jovi, Carrie Underwood, Daughtry, Enrique Iglesias, Jennifer Lopez, Justin Bieber, Kenny Chesney, Leonard Cohen, Paul McCartney, Taylor Swift, The WHO, Trey Songz and Juanes. The company is also currently producing residency shows at The Colosseum at Caesars Palace in Las Vegas including Celine Dion, Rod Stewart and Shania Twain and is the exclusive promoter at The Joint at Hard Rock Hotel & Casino Las Vegas. AEG Live is also the largest producer of music festivals in North America from the critically acclaimed Coachella Valley Music & Arts Festival to Stagecoach Country Music Festival and New Orleans Jazz & Heritage Festival. www.aeglive.com
FOR INTERVIEWS, PRESS CREDENTIALS AND OTHER MEDIA INQUIRIES, PLEASE CONTACT:
Vladimir Gómez
Director of Communications & National Promotions
vgomez@sbscorporate.com
(786) 470-1644
Pepe Xicohtencatl
pepe@tapizmedia.com
Daniel Morales
danielmorales@tapizmedia.com