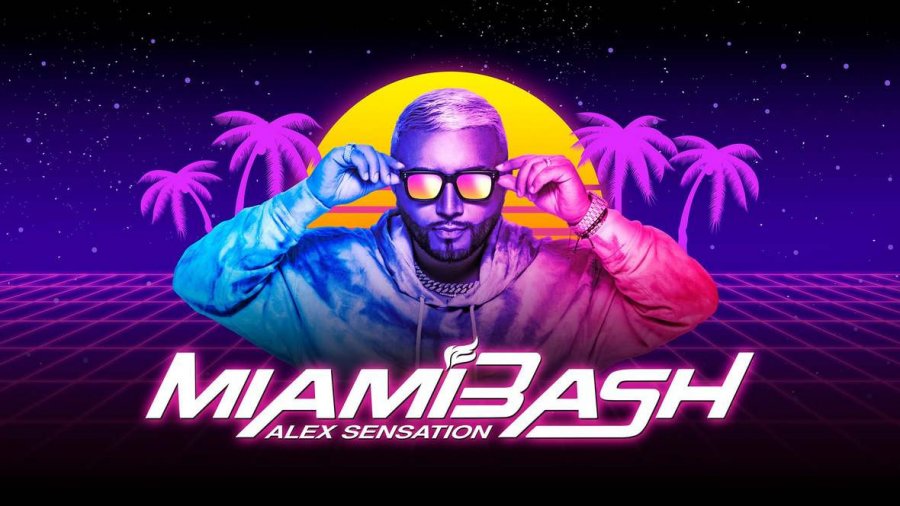 LAMUSICA APP, EL NUEVO ZOL 106.7FM ANNOUNCES "ALEX SENSATION MIAMIBASH" SET FOR FRIDAY DECEMBER 17TH, 2021, AT FTX ARENA (FORMERLY AMERICANAIRLINES ARENA) IN MIAMI, FLORIDA
Miami, FL. (August 6, 2021)— Spanish Broadcasting System, Inc. (the "Company" or "SBS") (OTC: SBSAA), the nation's largest Hispanic-owned and targeted media and entertainment entity, LaMusica App, and South Florida's #1 radio station, El Nuevo Zol 106.7FM its currently on sale for MiamiBash at www.ticketmaster.com. The show will bring performances by some of the year's biggest recording artists. MiamiBash 2021 returns to the FTX Arena (formerly AmericanAirlines Arena) in Miami, Florida on Friday, December 17th, 2021.
The full artist line-up was announced on El Nuevo Zol 106.7FM @lamusica and across social media platforms. Superstars like Ozuna, Prince Royce, Manuel Turizo, Wisin, Arcangel, Natti Natasha, Ivy Queen, Nio Garcia, Lunay, Sech, Chimbala, Kiko el Crazy, Farina, Camilo, Jowell & Randy, among others. Make sure to tune in to El Nuevo Zol 106.7FM @lamusica for more exciting lineup updates.
Join the conversation on social networks using #MiamiBash2021 from @elzol1067fm @lamusica. Follow us on Twitter: @elzol106fm on Instagram: @elzol1067fm, @lamusica, on Facebook.com/ElZOL106.7FM and online: www.elzol.lamusica.com.
LaMusica App and El Nuevo Zol 106.7FM have also announced that this star-studded event will feature a multi-million-dollar production that will include a 360-degree rotating stage as well as the latest in concert technology including lights, pyrotechnics, three-dimensional effects, laser sets, giant screens and a sound that will surely vibrate all attendees at the FTX Arena (formerly AmericanAirlines Arena).
"Our goal has always been to produce unprecedented events and on December 17th, we will be bringing together great figures at the iconic FTX Arena (formerly AmericanAirlines Arena)," said Alex Sensation, top-rated personality from SBS.
"SBS Miami continues with its tradition of producing the most important concert of Latin urban music in the world. Alex Sensation MiamiBash exceeds that goal by bringing to South Florida the highest representatives of the genre as well as well as other major artists who like the new generation of bicultural and bilingual Latino youth," said Donny Hudson, EVP of Local Media for SBS Radio, TV and Digital Operations, VP & GM of SBS Miami.
Suggested Social Media Post:
#MIAMIBASH2021 Dec. 17th will be a historic night at #FTXArena @elzol1067fm @lamusica tickets @ ticketmaster.com
*Artists and/or events subject to change or cancellation without notice.
About Spanish Broadcasting System, Inc.
Spanish Broadcasting System, Inc. is a leading Hispanic media company that owns and operates radio stations located in the top U.S. Hispanic markets of New York, Los Angeles, Miami, Chicago, San Francisco, and Puerto Rico, airing the Spanish Tropical, Regional Mexican, Spanish Adult Contemporary, Top 40, and Latin Rhythmic format genres. SBS also operates AIRE Radio Networks, a national radio platform which creates, distributes and markets leading Spanish-language content to over 300+ affiliated stations reaching 95% of the U.S. Hispanic audience and MegaTV, a network television operation with over-the-air, cable and satellite distribution and affiliates throughout the U.S. and Puerto Rico. In addition, SBS produces live concerts and events and publishes multiple bilingual websites, including LaMusica, an online destination and mobile app providing streaming content related to Latin music, entertainment, news, and culture for today's U.S. Hispanic consumer. For more information, visit us online at www.spanishbroadcasting.com.
About LaMusica
LaMusica is a music-centric online platform catering to a wide variety of Hispanic users through the live audio and video streaming of the nation's top-rated radio stations owned by Spanish Broadcasting System (SBS), including WSKQ-FM in New York City, the #1 Hispanic station in America, as well as other leading SBS formats from around the country. Offering a daily variety of exclusive digital content including current events video vignettes, celebrity interviews, podcasts, expertly curated playlists, and world premiere music videos, LaMusica is the preferred Hispanic streaming platform for today's U.S. Latinos. LaMusica is available via the mobile app, the LaMusica.com website, iOS and Android smartphones and tablets, Apple TV, Roku, Android TV, Firestick/Amazon TV, Samsung Smart TV, Apple CarPlay, as well as Chromecast and Alexa-enabled devices.
Media Contacts SBS:
Vladimir Gomez
VP Corporate Communications
(786) 805-2545
Media Contact SBS External Agency:
Marlene Maseda
Fusion 4 Media