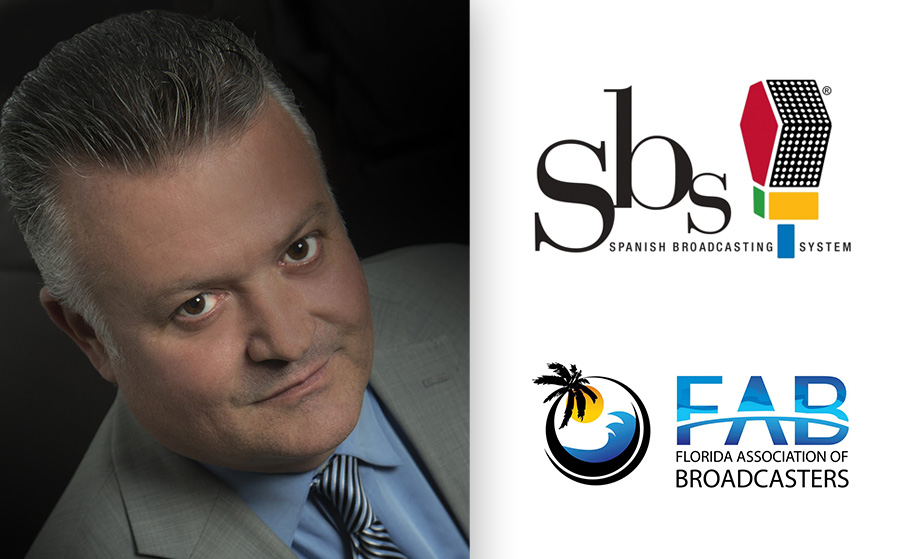 APPOINTMENT REFLECTS DONNY'S CONTRIBUTION AND IMPORTANCE TO LOCAL STATIONS AND MARKET FOR DECADES
Miami, FL. (June 29, 2021)— Spanish Broadcasting System, Inc. (the "Company" or "SBS") (OTC: SBSAA), the nation's largest Hispanic-owned and targeted media and entertainment entity, is proud to announce today that radio executive Donny Hudson has been appointed as a Radio Board Member of the Florida Association of Broadcasters' (FAB) Board of Directors. In this new role, Donny will join a group of distinguished industry leaders to advise and guide the FAB's member Television and Radio stations as they chart their paths towards continued growth, profitability, and community service in today's environment of economic and social challenges and rapidly changing consumer media behaviors.
"It's been my privilege to work alongside Donny for more than a decade as he's consistently delivered solutions for our talents and clients," said Albert Rodriguez, President, Chief Operating Officer of SBS. "I'm confident that the Florida Association of Broadcasters will benefit from Donny's extensive industry experience and forward-thinking approach to execution."
"I am honored and privileged that the leadership of the Florida Association of Broadcasters' (FAB) Board of Directors has named me to its radio board," stated Donny Hudson. "As Radio Board Member, I am very committed to fostering an environment where all members can prosper, grow and enter the economic mainstream of business activity in the Country. I look forward to joining my fellow board members and working diligently in achieving the FAB goals and mission."
Donny Hudson has been General Manager and Vice President of SBS Miami supervising all operations at WXDJ-FM (EL NUEVO ZOL 106.7FM), WRMA-FM (RITMO 95.7FM), WCMQ-FM (ZETA 92.3FM), and the LaMusica app.
Mr. Hudson has been with SBS for twenty-two years and previously held various managerial positions including SVP of Consolidated Sales, Local Sales Manager, and Director of Local Sales.
Prior to joining Spanish Broadcasting System (SBS), Hudson served as EVP of Sales for America CV Network/ America TeVe. He also worked in sales at HBC for WRTO-98.3FM, WAMR-107.5FM and WQBA-1140AM, WAQI-710AM and then as General Sales Manager of WRTO-98.3FM. He started his radio career at WSUA-Radio Suave after graduating from the University of Miami in 1989 with a Degree in Broadcasting. He is a proud Miami native.
---
ABOUT SPANISH BROADCASTING SYSTEM, INC.
Spanish Broadcasting System, Inc. is a leading Hispanic media company that owns and operates radio stations located in the top U.S. Hispanic markets of New York, Los Angeles, Miami, Chicago, San Francisco, and Puerto Rico, airing the Spanish Tropical, Regional Mexican, Spanish Adult Contemporary, Top 40, and Latin Rhythmic format genres. SBS also operates AIRE Radio Networks, a national radio platform which creates, distributes and markets leading Spanish-language content to over 300+ affiliated stations reaching 95% of the U.S. Hispanic audience and MegaTV, a network television operation with over-the-air, cable and satellite distribution and affiliates throughout the U.S. and Puerto Rico. In addition, SBS produces live concerts and events and publishes multiple bilingual websites, including LaMusica, an online destination and mobile app providing streaming content related to Latin music, entertainment, news, and culture for today's U.S. Hispanic consumer. For more information, visit us online at www.spanishbroadcasting.com.
---
SBS Contacts:
Press & Media
Vladimir Gomez
VP Corporate Communications
vgomez@sbscorporate.com
(786) 470-1644
Brad Edwards
The Plunkett Group
brad@theplunkettgroup.com